World-renowned art director of "Laputa: Castle in the Sky" and "Princess Mononoke"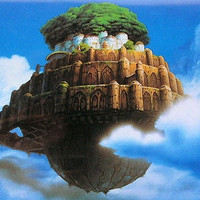 The Museum of Art, Kochi is now holding a special exhibition "The World of Yamamoto Nizo" covering more than 30 years of Nizo Yamamoto's anime background works from April 14 to June 3. To celebrate start of the event, Yamamoto himself was invited and his talk show and autograph session were held yesterday.
Nizo Yamamoto was born in 1953 and probably one of the best and well-known anime art directors in Japan. He is especially famous for his works for Studio Ghibli's films by Miyazaki Hayao and Isao Takahata. As art director, he worked on:
・Future Boy Conan (1978 TV series directed by Hayao Miyazaki)
・Jarinko Chie (1981 film by Isao Takahata)
・Sherlock Hound (1984-85 TV series: first six episodes were directed by Hayao Miyazaki)
・Laputa: The Castle in the Sky (1986 film by Hayao Miyazaki)
・Grave of the Fireflies (1988 film by Isao Takahata)
・Princess Mononoke (1997 film by Miyazaki Hayao)
・The Girl Who Leapt Through Time (2006 film by Mamoru Hosoda)
The flyer
・He decided to work in the anime industry when he saw Takahata's 1974 TV series Heidi, Girl of the Alps (scene design and layout by Miyazaki). So it was a dream-come-true moment for him when he actually worked with Takahata for Nippon Animation's Anne of Green Gables in 1979.
・The most memorable film in his career was definitely Takahata's Grave of the Fireflies. He was drawing bombed-out landscape in the film with tears literally. It was a very depressing but worthy film to make.
・He described Miyazaki as "a genius who can always give his best effort". Also he felt sometimes Miyazaki was too demanding from others and not good at appreciating it. When making Laputa, Miyazaki asked him, "How long do you sleep a day?" "About seven hours," Yamamoto answered. Then Miyazaki scolded him so harshly, "Too long! Four hours is enough for human!" And Miyazaki actually slept only four hours a day. Yamamoto remembered, "He was really like Napoléon."
・He stopped working for Studio Ghibli after Spirited Away (2001) because of Miyazaki's ungrateful attitude. He was so angry that he refused to receive bonus from Ghibli (Spirited Away was the most successful film in Japanese history). Of course his wife was amazed at his decision!
・Drawing background arts for anime is not what he really wants to do. Just because that is the job the anime companies have been offering to him. If he could be born again, he wants to be a fisherman or garden designer.
A line for his autograph session