From the US, Benin, Philippines, Russia, Ukraine, Australia, Japan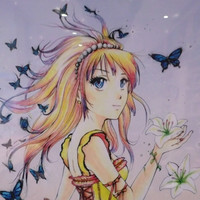 As previously reported, Kochi Indies Magazine, a Japanese independent manga magazine whose purpose is to find and nurture young manga artists who want to be professional, has accepted entries for its cover illustration contest for the next issue (12th issue) which is scheduled to be published in November this year. Thanks to the Internet, the magazine received 36 entries from all over the world, including the entries from Japan, the US, Mexico, Chile, Australia, Taiwan, Philippines, Spain, Russia, Ukraine, and a country in West Africa, Benin.
The Yokoyama Ryuichi Memorial Manga Museum in Kochi Prefecture has opened an exhibition for the 36 illustrations at its manga library on September 8. The museum visitors can vote for their favorite illustrations, the most popular one will be used for the cover of the next issue of KIM. With the permissions from Kyoko Yasuoka, the editor-in-chief of KIM, and the museum, I would like to
introduce the entries to the Crunchyroll News readers. The first part introduces the first half of the entries,
No.1 to 18. The second part for No.19 to 36 will be posted tomorrow. Which is your favorite and want to
vote for the contest?  
The Yokoyama Ryuichi Memorial Manga Museum entrance
Manga library on the third floor
No.1 Matthew Ritter (USA)
NO.2 Djwaglmuffin (USA)
No.3 K-hermann (Benin)
No.4 Crimsonashtree (USA)
No.5 khat-chan (Philippines)
No.6 Goodwin (Russia)
No.7 Tsuzuku (USA)
No.8 Yui Aino (Russia)
No.9 Ahiru-chan (Russia)
No.10 Rika (Russia)
No.11 Renoxile (Russia)
No.12 Lisa Cloud (Ukraine)
No.13 Maya (Russia)
No.14 Cherriuki (Australia)
No.15 Ksenia Kudo (Russia)
No.16 Keyleen (Russia)
No.17 kotikomori (Russia)
No.18 Nao Kimiko (Japan)
#all of the photos were taken by Mikikazu Komatsu