Kadokawa, Shaft, Aniplex, Toho animation, and more companies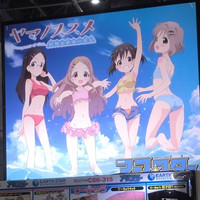 This summer's Comic Market/Comiket, the world's largest doujin (self-publishing materials including manga, novels, game, music) event, is now being held at Tokyo Big Sight for three days from August 15 to 17. As always, many major Japanese anime/manga/game companies are setting their booths in the industry section of the super-crowded event, which is located in the West Hall of Japan's largest convention center.
After participating in the first day (August 15) for my own doujinshi circle Fantastic Yuri Rhythm, today I checked the industry booth section for the Crunchyroll News readers. Please check the photo report below.
*all of the photos were taken by Mikikazu Komatsu with the Comic Market organizer's permission
Tokyo Big Sight
The convention center was packed with more than 100,000 anime/manga fans
One of the Cosplay areas
---
Industry Booth Section
Kadokawa (booth No. 561)
Shaft (No. 211)
Pony Canyon (No. 212)
Marvelous (No. 213)
Aniplex (NO. 214)
Nihon TV (No. 226)
TMS Entertainment (No. 221)
Nanoha Inoccent Project (No. 231)
Bushiroad (No. 111)
Toho Animation (No. 253)
TBS Animation (No. 351)
Warner Home Video (No. 343)
Momo Kyun Sword (No. 141)
Shogakukan (No. 254)
Comic Earth Star (No. 315)
Good Smile Company (No. 223)
Gift (No. 352)
Gee!Store (No. 554)
Itagasa - Seasonal Plants (No. 612)
AU's Anime Pass (No. 441)
AU's Yowamushi Pedal wrapping car
Magical Girl Lyrical Nanoha ViVid supports Japan Red Cross' blood donation campaign