Anime isn't just made by Japanese people!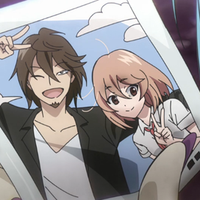 A few weeks ago, I wrote about SHELTER, the music video animated by A-1 Pictures and produced by Porter Robinson and Crunchyroll. It's a beautifully animated video and a wonderfully innovative project, but it would be a lie to say that international collaboration is a new thing when it comes to anime. In fact, it's downright ordinary. Outsourcing has been an integral part of the animation business for years; just look at the credits of any given anime and you'll see how many foreign studios and individuals are involved in the production.
What is worth noting about SHELTER is the nature of the collaboration—A-1 Pictures was approached as an equal partner in the venture. Once upon a time, a great deal of American and European animation used to be outsourced to Japanese animation studios, but because Japan's domestic animation industry is so highly developed, this doesn't happen as much anymore. China, South Korea, India, Vietnam, the Philippines, and other Asian countries are more popular candidates for outsourcing nowadays because of the cheaper costs involved. But even their domestic industries are growing, and over time it may become more common to see them co-produce animation with Japan and America on an equal footing.
In fact, co-productions are already happening! Today, I'd like to highlight a Chinese animation company that is co-producing a whopping three TV anime series from this season alone. Bloodivores, Cheating Craft, and TO BE HERO are all viewable in multiple languages on Crunchyroll, and while these shows are very different from each other, they do share the same brand name behind them— Haoliners Animation League.
A Brief Overview of Haoliners
If you're a watcher of Chinese animation, you may have already heard of Haoliners. The company produces almost 50% of China's domestic animation, and about 80% of their net animation. Given that there are about 400 million smartphones in use in China, this is a pretty huge market they're catering to.
Haoliners has only existed since 2013, but last year they expanded into Japan in an ambitious way, establishing a subsidiary studio in Tokyo called Emon. This studio is managed mainly by Shoji Murahama, the guy who co-founded Studio Gonzo. While Gonzo is rather diminished these days, it was very well-known for its international outlook in its heyday, and in many ways, it was ahead of its curve. If anything, Emon's approach to animation is even more globalized than Gonzo's. While the staff is mainly Japanese, there are Chinese, French, and South Korean members in the team. And to top it off, Emon shows are broadcast on both Chinese and Japanese TV.
As far as English-speaking viewers are concerned, however, the Haoliners brand languishes in obscurity. A lot of this has to do with the fact that, as a young company, they have yet to take on any high-profile anime projects. Their first TV anime project, hitorinoshita - The Outcast, met a quiet reception, and their latest offerings have also failed to attract much buzz. However, after watching all three Haoliners shows from this season, I think the company as a whole is well worth keeping an eye on.
At this point, I need to stress that although these shows are all supervised by Li Haoling, the founder of Haoliners, they don't share the same staff—in fact, they're made at different studios. However, they're all interesting case studies of how animation production is becoming more globalized, so I'll briefly go through each anime and explain what I find noteworthy about them.
Bloodivores
Bloodivores is the only full-length Haoliners show airing this season. It's based on a Chinese manga called Time Prisoners. The director and composition writer is a Chinese animation veteran named Chen Ye. He hasn't directed a Japanese TV anime before, but he is part of the core Haoliners team. According to the English-language version of the Haoliners website, he's been making animation since 1998, and he's been particularly prolific over the past two years.
Clearly, Chen Ye knows what he's doing as an animation director. But even skilled directors can produce mediocre work when given less-than-ideal time and resources to work with, and that might have been the case with Bloodivores. Among the three Haoliners anime airing this season, it has the roughest animation, perhaps indicating that this was a rushed project. Sadly, rushed schedules are the norm when it comes to TV anime, and in this regard Bloodivores does not stand out among its peers.
As a side note, it's worth noting that most of its key animators are Koreans. In fact, I was hard-pressed finding a Japanese or Chinese name in this part of the credits for any of the episodes that have aired so far. Not a surprise—a large portion of the animation was outsourced to Namu Animation, a South Korean studio that only has two likes on Facebook.
Cheating Craft
By contrast, Cheating Craft has a mostly Japanese core staff. Despite being based off a Chinese novel and featuring Chinese characters, the show also strives to have the most anime-looking anime characters who have ever been anime'd. In that regard, I'd say it's a resounding success. The snarky heroine is even voiced by Rie Kugimiya! How could you get more anime than that?
Some other interesting things to note: although Emon is credited as the studio where the planning took place, the actual animation work was done by a studio called Blade. This studio had only previously handled in-between animation and production assistance, so Cheating Craft was a big step up in responsibility. It actually looks pretty good, all things considered, and this may have had to do with the main animator, Yutaka Kamogawa. Kamogawa is a veteran from Studio Sunrise, where he mostly handled the scenes with cool explosions.
"Why get a mecha anime specialist to work on a school comedy?" you might ask. The real question is why not? The bombastic action scenes help give the jokes in Cheating Craft that little extra touch. When it comes to anime comedy, the more over-the-top, the better.
In sum, although there were a number of Chinese individuals behind the planning of this anime, they likely went out of their way to make Cheating Craft look like a quintessential Japanese anime.
TO BE HERO
It's in TO BE HERO where Emon's own identity as a studio starts to emerge. It was directed by Li Haoling himself, and he even did all the scripts, storyboards, and series composition. The photography, which is usually outsourced to another studio when it comes to anime projects, was done in-house. Also, the animation was produced by a "Studio LAN!" This is a pretty amusing joke, as this "Studio LAN" is actually just one guy named LAN. He did the character designs, the color setting, the backgrounds, and a good chunk of the key animations. All in all, TO BE HERO is a very tightly controlled project that involves minimal outsourcing, unlike the shows mentioned earlier.
TO BE HERO isn't for everyone. It often relies on a combination of sex jokes and toilet humor, which I'm personally not a fan of. But it also has some genuine heart, especially when it comes to the relationship between the protagonist and his daughter. The animation, while simple for the most part, has moments of truly inspired excellence (such as the scene where the protagonist is sucked into the toilet). TO BE HERO might not be for everyone, but you can't deny that it has an identity of its own.
TO BE HERO is what makes me excited about Haoliner's output in the future. The head animator LAN is completely self-taught. One of the other key animators, KiloCrescent, is fresh out of high school. This is a young, barely established team working on a hectic Japanese TV production schedule. If they're already producing such fantastic animation at such an early stage of their careers, they will be a force to be reckoned with in the future. It also helps that TO BE HERO doesn't try to copy the "typical" anime aesthetic, shooting instead of a distinctive narrative and visual style.
All in all, Haoliners may not have produced any standout hits for Japanese TV yet, but they're definitely worth keeping an eye on. They're already a very diverse company, and the shows they've produced this season offer something a little different! Are you watching any of their shows this season?
(NOTE: If you're interested in the Chinese animators behind TO BE HERO, you can read an interview with LAN and KiloCrescent on the Wave Motion Cannon blog.)
---
Kim Morrissy is a freelance writer and translator. He writes about anime, light novels, and Japanese culture on his personal blog. You can also follow him on Twitter at @frog_kun.