A cozy, stress-free anime with a manga unafraid to get a bit more serious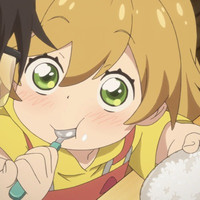 Welcome to Anime vs Manga, a new article series in which we take a look at recent anime and the manga before, during, or sometimes even after them. First, we'll introduce the story and charm points of the anime, then review what makes the manga different. For our first-ever Anime vs Manga, we'll be looking at the sweet slice-of-life about cooking delicious food, sweetness & lightning, which you can both watch and read right here on Crunchyroll as well as purchase digitally in the Manga Shop on the Crunchyroll Android app.
sweetness & lightning is a charming slice-of-life about an unlikely trio in a single father Kohei, his young daughter Tsumugi, and his student Kotori, who regularly meet at the restaurant owned by Kotori's mother to cook meals together. Kohei feels guilty being unable to cook for his daughter like his late wife, while Kotori (whose parents have divorced with her mother too busy making TV appearances to manage their restaurant) feels lonely without a family to come home to. Afflicted with a fear of knives after a childhood accident, she can't even cook for herself and relies on Kohei to do all the cutting while the three prepare her mother's recipes together.
The anime has a cozy formula, with the trio meeting up at least once every episode to make a particular dish. Their interactions and communal efforts to make and enjoy good food contribute a great deal of happiness to each other's lives. Inquiring about Tsumugi's tastes and what she wants to eat also helps Kohei improve his ability to communicate with Tsumugi, who is often afraid to ask for things. Some of Kohei and Kotori's friends make regular visits to their cooking activities and each episode leaves you hungry for a different dish and with a warm, fuzzy feeling.
Family, food, and finding ways to get your child to eat their vegetables are what this story is about. Despite the unusual relationship of its leads, each character reads as tremendously authentic, this is especially true of young Tsumugi, whose eccentricities and quicksilver mood swings are convincingly juvenile. Rather than be portrayed as a perfectly cute child, sweetness & lighting present a kid who can be troublesome at inconvenient times and becomes upset for reasons unfathomable by adults, but still manages to charm everyone around her.
The anime definitely emphasizes the slice-of-life portion of the manga, rearranging certain events to maintain the dish-per-episode formula where the manga frequently alternates between cooking and life events. While it provides an excellent introduction and replicates the emotional highs the chapters typically leave behind, the manga mixes quite a bit more bitter with the sweet as it explores themes of accepting loss--Kohei and Tsumugi begin attempting to replicate her mother's old recipes, eventually leading Tsumugi to request that they spend more time talking about her mother, allowing each to begin processing the reality of her death and their personal grief.
Where the anime glazes over some aspects of the story, the manga takes its time, spending some effort on showing Kohei's original reticence to be visiting a student in an unofficial capacity (eventually deciding to ask her mother if she thought it was inappropriate) as well as exploring Kotori's own troubled past and her relationship with her father. In fact, where her fear of knives is framed somewhat humorously in the anime, it comes from a place of shame and grief in the manga: a failed attempt to cook her father's favorite dish in the hopes that she might resolve the constant argument between her parents leading into their separation.
The manga also has much more time to spend digging into these much more emotional plot elements: where the anime concludes roughly at around chapter 19, the manga is on its 49th chapter as of this article. New characters are introduced, and others leave just as people pass in and out of our own lives, the girls each face the next step in their education, Kotori resolves to overcome her fear of knives and improve her cooking, and Tsumugi begins to mature and grow as she becomes more confident in her ability to create and communicate with her father as a result of their shared activity.
There's something about the careful framing and illustrations in the more solemn moments of the manga that make them even more devastating than the anime, although each are soon remedied by a healthy dose of levity. Still, both anime and manga are best consumed with tissues handy. Another added bonus of experiencing the story through the manga are the recipes for each of their creations, either incorporated into the chapter itself or appearing at the end just as Kotori's mother wrote it.
---
Peter Fobian is the Features and Reviews Editor for Crunchyroll News, author of Monthly Mangaka Spotlight, writer for Anime Academy, and contributor at Anime Feminist. You can follow him on Twitter @PeterFobian.