"Gundam UC" Volume 4 (Blu-Ray Disc) To Be Released Worldwide In December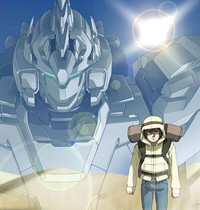 Bandai Visual announced the simultaneous worldwide release of "Mobile Suit Gundam UC (Unicorn)" Volume 4 on Blu-ray Disc. The disc will be released worldwide on December 2, 2011.
"Mobile Suit Gundam UC (Unicorn)" Volume 4 (Blu-ray Disc)
Episode Title: "At the Bottom of the Gravity Well"
Release Date: December 2, 2011
Regions to be Released: North America, Europe and Asia including Japan
Audio: Japanese, English
Subtitles: Japanese, English, French, Spanish, Traditional Mandarin & Cantonese

"Gundam UC", based on a story by author Harutoshi Fukui, uses the "Universal Century" concept from the first "Mobile Suit Gundam" series as a foundation from which to build a 6 episode Original Video Animation (OVA) storyline arc. With this fourth episode, the saga enters into the second half with new characters.
In addition to Blu-ray Disc release, on-demand streaming is scheduled.