Character Design Great Pays Tribute to Sports Achievement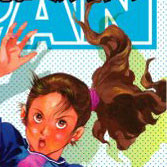 For a 64 year old guy who dropped out of school to work for Osamu Tezuka's Mushi Productions, Yoshikazu Yasuhiko has remained busy. Four decades into his career, the character designer for Dirty Pair and Mobile Suit Gundam has stayed involved in the field, illustrating the Mobile Suit Gundam Unicorn novels and the Mobile Suit Gundam: The Origin manga. Now, he provided a "Congratulations Nadeshiko Japan" illustration paying tribute to Japan's world champion women soccer team for this year's 10th issue of Dengeki Comic Japan.
In a comment about the illustration, Yoshikazu Yasuhiko joked about appreciating the healthy looking legs of team captain Homare Sawa.


If you can purchase Japanese media, the manga anthology can be bought here.
For a bit more Yoshikazu Yasuhiko, Masters of Manga's video of the illustrator drawing Gundam antagonist Char.