By heavy metal musicians from Loudness, Ozzy Osbourne band, Judas Priest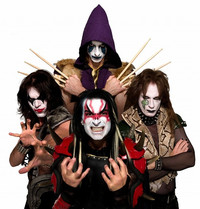 Animetal was a Japanese heavy metal band who specialized in metal covers of popular Japanese anime/tokusatsu theme songs. Animetal USA, an American counterpart of Animetal, will release their first album "Animetal USA" from Sony Music Japan in Japan on October 12. They are planning a world tour next year, including Japan and the US.
Animetal Japan was originally formed by a famed metal vocalist Eizo Sakamoto (Anthem) in 1996. They had released 11 metal cover albums and had sold more than 600,000 copies till 2006 when they went on hiatus.
The newly formed Animetal USA' s members are all experienced heavy metal musicians.
Vocal: Mike Vescera (Loudness, Yngwie Malmsteen Band)
Guitar: Chris Impellitteri (Impellitteri)
Bass: Rudy Sarzo (Ozzy Osbourne Band, Whitesnake, Dio)
Drums: Scott Travis (Racer X, Judas Priest)
Arrange: Marty Friedman (Megadeth)
They play 11 metal cover songs in the first album and sing some parts in original Japanese and some in English.
The songs include the theme songs from classic anime series such as;
"Space Battleship Yamato"
"Science Ninja Team Gatchaman"
"Kyojin no Hoshi"
"Tiger Mask"
"Mazinger Z"
"Dragon Ball"
"Hokuto no Ken (Fist of the North Star)"
"Kinnikuman"
"Saint Seiya"

"Neon Genesis Evangelion"

A photo © NTV