Giant 1 kg silver coin also offered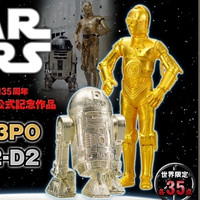 Imperial Enterprise, a Japanese mail order retailer, has started accepting orders for 1/35 figures of C-3PO in pure gold and R2-D2 in pure silver in Japan today. These expensive limited figures are released to celebrate the 35th anniversary of the release of the first film, Star Wars Episode IV: A New Hope, in 1977. Actually the movie was released in Japan one year later.
The gold C-3PO figure is 10 cm tall and weighs 35 grams. The price is 500,000 yen (approximately US$6,000). The silver R2-D2 figure is 6 cm and 35 grams, the price is 150,000 yen (US$1,800). The company will produce only 35 products for both.
The company will also release 1 kg Star Wars silver coin in Japan on March 26.
The retail price is 248,000 yen (US$2,981).
© Imperial Enterprises
© Lucasfilm LTD. & TM.