Two sets of adaptations to run on NHK-BS Premium in July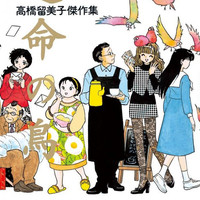 In addition to her long-running hits like InuYasha, Rumiko Takahashi has written many short manga stories throughout her career. There's her shonen Rumic World stories from Shonen Sunday, and her older audience seinen Rumic Theater stories from Big Comic Spirits. In July, NHK-BS Premium will be adapting a selection of the latter in a pair of live-action drama anthologies.
Part One - "Red Bouquet" also adapts "In a Pot" and "Aberrant Family Fire." Cast includes Fumiyo Kohinata (Ring 2, Audition, 20th Century Boys), Mieko Harada (Ran, Dororo, Helter Skelter), Mariya Yamada (Ultraman Tiga), Reiko Kataoka (Gonin 2, Battle Royale, Kamen Rider Hibiki), Tetta Sugimoto (Departures, Dororo), Jun Yoshinaga, and Jun Murakami (Yakuza Weapon).
Part Two - "The Birds of Fate" - named for the title story of the most recent collection of Rumic Theater stories, also adapts "The Executive's Dog" and "As Long As You Are Here." Cast includes Jun Murakami (Yakuza Weapon), Miki Mizuno (Gamera 2: Attack of Legion, Carved), Waka Inoue (the TV version of Arakawa Under the Bridge and Salaryman Kintaro), Kichiya Katsura, Mikihisa Azuma (Gokusen), and Katsuhiko Watabiki (Patlabor 3).
Rumic World inspired '80s OVAs Fire Tripper, Maris the Chojo, and Laughing Target. Collections of the manga were released in North America by Viz, and the OVAs were released on VHS, but never DVD, by Central Park Media.
Rumic Theater stories from Big Comic Spirits were adapted into a 13-episode anime TV series, released in North America by Geneon.