New film to see more CG usage than live-action Gantz and Yatterman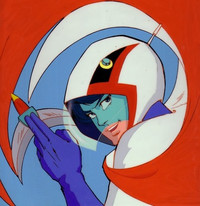 Japan's entertainment industry is buzzing with the news of a new live-action adaptation of Science Team Ninja Gatchaman, more commonly known by the names Battle of the Planets/G-Force in the West.
The film is set for a summer 2013 release in Japan with production being handled by Nikkatsu with assistance from legendary film house and distributor Toho. The film will feature Tori Matsuzaka from.hack//The Movie and Kamen Rider Decade as Ken, the head of the team. Gō Ayano as second-in-command Jō, Ayame Gōriki as explosive yoyo-wielding Jun, Tatsuomi Hamada as the youngest member Jinpei, and Ryōhei Suzuki as main pilot Ryū rounding out the live-action cast.
The film will be helmed by director Toya Sato, Yūsuke Watanabe from the forthcoming 2013 Dragon Ball Z film will handle the script, and Shinji Aramaki is designing the characters, with Takashi Yamazaki handling the visual effects. The film is set to begin shooting on October 15th in order to meet its summer 2013 release date.
Seeing that Shinji Aramaki is involved gives me high hopes that the character design will be visually appealing, but the additional fact that the film will use more CG than live-action Yatterman and Gantz combined makes me wonder just how heavy the CG will be in the finished film. Here's hoping it doesn't suffer glaring inconsistencies and looks out of place, Gatchaman is known for its action sequences and set pieces after all.
Anyone else looking forward to the movie?
---
Humberto Saabedra is the Editor-in-Chief of AnimeNews.biz, PhoneNews.com and an occasional columnist for Ani.me. He can also be found musing on his favorite 2D girls at @AnimeNewsdotbiz.