K-on, Madoka Magica and Sword Art Online battle for the top of the heap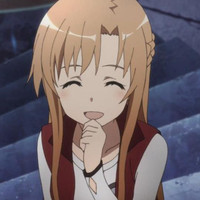 Biglobe Rankings recently got a huge response for something of an interesting question. Over 10,000 Japanese fans responded to a call to name their favorite pure/innocent anime heroine. The complexities come in how you define an innocent heroine. Explicitly it's not male. Implicitly, it's not a young child, but not too old either.
Characters who fit the bill included:
1. Hyouka's Chitanda Eru
2. K-On!'s Akiyama Mio
3. Angel Beats!'s Tenshi
4. Madoka Magica's Akemi Homura
5. CLANNAD After Story's Nagisa Furukawa
6. K-On!'s AzusaNakano
7. Sword Art Online's Asuna
8. Haruhi's Nagato Yuki
9. K-On!'s Kotobuki Tsumugi
10. Bakemonogatari's Tsubasa Hanekawa
11. Madoka Magica's Mami Tomoe
12. Saki's Saki Miyanaga
13. Tari Tari's Sawa Okita
14. Sword Art Online's Yui
15. Sword Art Online's Suguha Kirigaya
16. The Pet Girl of Sakurasou's Mashiro Shiina
17. Fate's Saber
18. Gintama's Okita Mitsuba
19. Accel World's Kuroyukihime
20. To Love-Ru's Sairenji Haruna
21. Chihayafuru's Oe Kanade
22. CLANNAD' After Story's Fujibayashi Ryou
23. My Ordinary Life's Nano Shinonome
24. CLANNAD After Story's Yukine Miyazawa
25. A Certain Magical Index's Kanzaki Kaori
26. YuruYuri's Akarin
27. Fullmetal Alchemist's Riza Hawkeye
28. (tie) Detective Conan's Ran Mouri
28. (tie) Beelzebub's Aoi Kunieda
30. Bakemonogatari's Nadeshiko Sengoku
31. Hidamari Sketch's Yuno
32. Polar Bear Cafe's Sasako
33. Detective Conan's Kazuha Toyama
34. (tie) Boku wa Tomodachi ga Sukunai's Yukimura Kusunoki
34. (tie) Seitokai Yakuindomo's Amakusa Shino
36. Another's Mei Misaki
37. Idolmaster's Kisaragi Chihaya
38. Ichigo 100%'s Aya Tojo
39. Little Busters!'s Mio Nishizono
40. Sakura Wars' Sakura Shinguji
41. Waiting in the Summer's Kanna Tanigawa
42. Total Eclipse's Takamura Yui
43. (tie) Tokyo Mew Mew's Lettuce Midorikawa
43. (tie) School Rumble's Yakumo Tsukamoto
45. (tie) The Law of Ueki's Rink Jerrard
45. (tie) Shukufuku no Campanella's Carina
47. Twinkle Jewelpet's Sakura Akari
48. Zombie Loan's Michiru Kita
49. Cross Fight Bidaman's Ruri Tenpouin
50. Anyamaru Tantei Kiruminzuu's Nagisa Mikogami
How would you define an innocent heroine and who's your favorite?
------
Scott Green is editor and reporter for anime and manga at geek entertainment site Ain't It Cool News. Follow him on Twitter at @aicnanime.