Digital anthology to publish simultaneously with Japanese version in January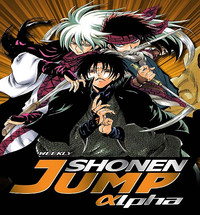 After first being announced during NYCC, Viz Media has now confirmed the start date for its new version of the Shonen Jump Alpha digital manga anthology. Additional confirmation came via Viz Media's Facebook cover photo posted within the last few hours.
The newly synchronized anthology will now follow the same schedule as the Japanese print anthology, though the initial slate of titles still have yet to be confirmed. Now that we have a launch date for the new Alpha, anyone planning to subscribe for the first time or renew their current subscription?
The realignment of Shonen Jump Alpha with Japan's Weekly Shonen Jump came as result of sustained demand from subscribers of the Alpha digital anthology, though the idea of simultaneous publishing was always under consideration since the launch of Alpha in 2011 after the cancellation of the monthly print anthology earlier that year.
---
Humberto Saabedra is the Editor-in-Chief of AnimeNews.biz, PhoneNews.com and an occasional columnist for Ani.me. He can also be found musing on his favorite 2D girls at @AnimeNewsdotbiz.