Produced by the former GONZO president Shouji Murahama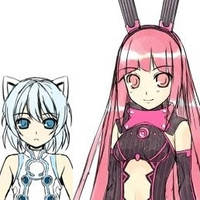 After the 3.11 earthquake and a number of nuclear accidents caused by the following Tsunami, renewable energy has been one of the most important topics in Japan. LMD, an anime production company headed by the former GONZO producer Shouji Murahama, and a social seeding site WESYM have started a new project to promote renewable energy sources such as solar and wind power by using two moe characters named "Kirara" and "Fuuka".
The two girls are designed by Yukiusagi, who is best known as the illustrator for the cover of the bestseller book of 2010 in Japan, "Moshi Kokou Yakyu no Joshi Manager ga Drucker no 'Management' o Yondara" (What If the Manageress of a High School Baseball Team read Drucker's "Management"?), or "Moshidora" for short. Any local governments, companies, and organizations powered by solar or wind energy can use the characters for free. The project also
plans to release an audio drama CD by the characters soon.
Kirara who represents solar power
Fuuka who represents wind power
Source: MyNavi