Gobots in Disguise!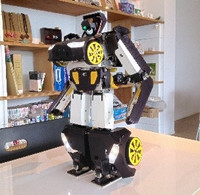 Japan and robots are ­meant to go together, which is why no current trend in the world of tech is more gratifying than the rise of real-life mecha inspired by anime. Recently, we've seen giant piloted robots make their debut, along with massive robot beetles, too, but in the back of our minds there's been this nagging question: "Hey, when is Japan going to actually knuckle down and make a robot that can transform into a car"?
Wonder no more! Transform Robot is a manually operated bit of kit manufactured by a Japanese company called Brave Robotics that can walk, transform, and yes (fans of Jersey Shore take note) can fist pump too!
The only downside here is THE PRICE. Owning Transform Robot will set you back about $24,000, i.e. the price of a real car. But think of the wild adventures you'd have with this little guy by your side! Just look at him go!
------
Patrick Macias is editor in chief of Crunchyroll News. He also runs the Japanese Fashion Inferno tumblr blog. Follow him on twitter at @Patrick_Macias.