Satou Sasara can talk, sing and hold conversations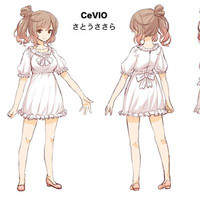 In anime fandom, blue-haired diva Hatsune Miku and her digitally fabricated pals are downright ubiquitous. They inspire unparalleled obsession in fans, who not only memorize her songs but use her software to create their own, providing a fairly unusual and intimate artist/fan relationship. But what if vocaloids could do more than sing - what if they could converse?
That's exactly what Satou Sasara can do. She's not a vocaloid; Sasara is part of a program called CeVIO. CeVIO, which will launch with three characters - two girls and one boy - kicked off their ad campaign with an interactive display in Animate, located in Akihabara. Watch her talk about Haganai:

Sasara looks radically different from the pop star designs of the Vocaloids; she is fresh, sweet and simple in design comparatively - one might almost say boring.
We haven't heard her sing yet, though from her talking voice I imagine she'll sing beautifully. The real question is, how well can she converse? Personally, I imagine it will be something along the lines of the iPhone's Siri. Her software will be available for free download at the end of February on the official site.
What do you think? Is Satou Sasara interesting, or will you stick with Miku?
Source: CeVIO via Vocaloid Otaku
-------
Amanda Rush is the Associate Editor for Ani.Me and contributor for OtakuCollectionDX. She swears in the middle of the night on Twitter as @TheAnimaven.