Minami Minegishi attends first public event since shaving her head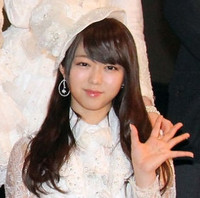 The last few days have been a wild ride for AKB48 and group member Minami Minegishi. After being photographed leaving a man's house – thus violating AKB48's strict "no dating" policy – Minami shaved her head and posted an emotional and downright disturbing apology video on AKB48's official YouTube channel on 2/1 where she tearfully begged to stay in the group which has since racked up 7.5 million views.
You figure most entertainment companies would be like, "Hey, maybe we shouldn't post this video that makes our group members look like hostage victims and makes us look like brutal dictators," but there it was for the whole world to watch…
BBC REPORT BELOW
Waves of bad publicity for AKB48 and growing international outrage quickly followed. Minegishi's story has since been picked up by ABC News, the Huffington Post, heck, even the Christian Post. You know, maybe posting that video might have not been such a good idea after all!
As of last night, the original apology video has been taken down from YouTube, replaced by an official statement from AKB Group Theater Manager Togasaki Tomonobu that reiterates much of the spin from his Q&A session about the video posted on his Google+ page (i.e. "shaving her head was her own brilliant idea"). The new video that replaces it is not exactly the entertainment experience of the year, but here it is anyway.
Meanwhile, Minami Minegishi made her first public appearance yesterday since the scandal exploded at an AKB48 handshake event in Chiba, Japan, sporting either a fresh head of hair or a wig (pictured below).
The now world-famous idol took to the stage and said, as Tokyo Hive reports...
I am extremely sorry for taking thoughtless action as an AKB48 member," then bowed for about 15 seconds. Regarding her shaved head, she commented, "I did not do it to be forgiven. I wanted to regain everyone's trust, and to start again from the beginning."
Reportedly, many fans who attended the handshake event, requested to the management, "We have felt Mii-chan's good faith, so we request to take the YouTube video down." When AKB group theater general manager Togasaki Tomonobu told Minegishi about the fans' requests, she responded with, "I'm full of gratitude for the voices from the fans."
See, they did it all for THE FANS! Anyway, it remains to be seen how much damage control still needs to be done, or if the bad publicity can be turned around into something more advantageous (a new documentary film on AKB48, No Flower Without Rain, just opened on 2/1 and the official art includes pictures of a group member crying...).
Why give it away for free on YouTube when you can get people to pay for it?
Anyway, here's a fun postscript: in a new interview with Mantan Web (as quoted by jpopasia), AKB48 member Yuki Kashiwagi said of the group's hardline policies, "If we get into relationships, I wonder if fans' support of members will fade...In order to unify everyone's mind, a dating ban is necessary. After giving it a lot of thought, I've reach the conclusion that idols should always put their fans first and think about what they can do to please them
AND SO THE SAGA CONTINUES
Sources: Tokyo Hive, Jpopasia
--------
Patrick Macias is editor in chief of Crunchyroll News. He also runs the Japanese Fashion Inferno tumblr blog. Follow him on twitter at @Patrick_Macias.