Kickstarter pledge drive announced at Anime Expo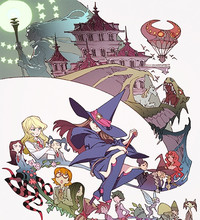 Following the initial confirmation of the plan to use Kickstarter to fund the second episode of the unexpectedly popular Little Witch Academia Anime Mirai Project episode during its fan event at Anime Expo this past weekend, Studio Trigger's Kickstarter page for the second episode is now live and accepting pledges with over $50,000 already pledged and climbing quickly. The goal for the Kickstarter campaign is to extend the second episode by 15 minutes for an improved sequel episode.
Below, the synopsis for the project:
Little Witch Academia 2 (tentative title) is the sequel to the acclaimed animated title Little Witch Academia, and will once again be directed by Yoh Yoshinari and hand animated by Studio TRIGGER. The episode is currently planned to be about 20 minutes long, but we've come to Kickstarter in the hopes that we can make it even longer and better with your help! With your support, we want to increase the length of the episode by 15 minutes and make an amazing sequel that fans will be proud of! In order to accomplish this, we're hoping to raise $150,000 with this Kickstarter project.
Currently the goals consist of wallpapers at the $1 pledge level and go all the way up to a trip to visit the offices of Studio Trigger and the related companies involved in the project for a $10,000 pledge, with one pledge at that level already. With the unexpected success of the first episode aided by its legal availability on YouTube and Crunchyroll, I have no doubt that Trigger will hit their goal well ahead of the August 7th deadline.
Special thanks to Crunchyroll member AlexJaguar for the heads up.
---
Humberto Saabedra is the Owner of AnimeNews.biz, Editor-in-Chief of PhoneNews.com and an occasional columnist for Ani.me. He can also be found musing on things (and Nico Robin) at @AnimeNewsdotbiz