It comes up every time a "casual" or "kiddy" game (basically, any game that isn't about killing people) hits the market: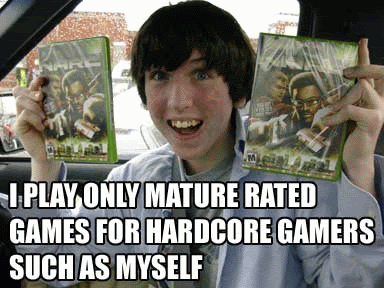 "Hardcore" gamers only play games like Call of Duty or Assassin's Creed or, you know the drill--hyper-realistic graphics and gritty action! Well, the studio that originally made Call of Duty, Infinity Ward, doesn't see their franchise that way. In a recent interview with OXM, executive producer Mark Rubin talked about Call of Duty's intended audience:
"We have an enormous amount of players who are more in the casual game space, but they play a lot. It's kind of a weird, ironic thing to say; They aren't hardcore gamers, or even gamers, but they play Call of Duty every night. And those guys are going to continue to play regardless of platform. So I think not only will we continue to engage with that existing player base, but we'll take next gen and see how far we can go with it."
I'm, uh... kinda with him. I recently came off a long hiatus for both The King of Fighters XIII and Call of Duty: Black Ops II. I play a lot of games, and practically live off them before I write reviews, so I constantly rotate back to older games that I dropped after the review got published.
For Black Ops II, I wander onto Team Deathmatch after fooling around in Create-a-Class, and walk off with a 9.1 K/D (my current record is 12, my average fluctuates between 2 and 3), while in KoFXIII, it took me around a week getting comfortable remembering priority and matchups, bringing my execution back up to par, and some very ruthless losses before I could get back into fighting shape. CoD felt very disposable and pick-up-and-play, while KoF (and just about any other fighter, really) required investment and practice.
Maybe Skullgirls will be next in the rotation
But then again, maybe that's just my experience with it--I remember the original Call of Duty on PC being a very ruthless and hardcore-oriented WWII shooter that required forethought, but I'm also of the belief that the series has since taken off in a lighter, more accessible direction, while other shooters (like ARMA) fill the niche. What do you think? Is Call of Duty "for the casuals" now, or are we just missing the hardcore appeal?