Service begins 10/30. Attack on Titan, Fairy Tail, and Space Brothers among the titles available to free and premium users.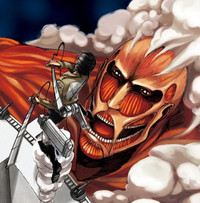 Ok, take a breath. This is a big one. Japan's Nikkei Business Daily has reported that Kodansha has found a partner to simulpub some of their current manga titles, and that partner is…Crunchyroll!
Starting Wednesday, October 30, Crunchyroll will begin digital distribution of twelve (12) Kodansha manga titles via a new service called "Crunchyroll Manga", including Attack on Titan, Fairy Tail, and Space Brothers, offering content to 170 countries, including the USA and UK, on the same day as release in Japan.
**Free users, and non-manga members will only be able to read the latest chapters with ads until the next chapter is simulpubbed. Manga members will have access to all manga including catalog titles. Crunchyroll Manga is included free with a Crunchyroll All-Access membership.**
Folks will be able to legally read the latest manga on Crunchyroll on their desktop/laptop computers, as well as iOS and Android devices.
We know that's not all the info, but expect all the facts to be revealed when Crunchyroll Manga officially launches on 10/30. In the meantime, this should keep you counting the hours and minutes even more: the complete list of Kodansha manga titles that you'll be able to read soon on Crunchyroll!
Exciting, huh? See you Wednesday…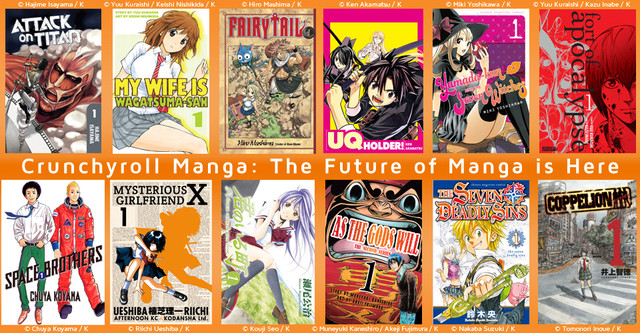 The full list of Kodansha titles available on Crunchyroll will be:
"Attack on Titan" by Hajime Isayama
A dramatic action-adventure where humans must battle mysterious giants for survival. Currently one of Japan's most popular manga, it has recently inspired a hit anime streaming on Crunchyroll now.

"Fairy Tail" by Hiro Mashima
A guild of wizards-for-hire use their skills in an age of magic and wonder.This ongoing manga series, created by Hiro Mashima, has also been adapted into a popular anime series.
"Space Brothers" by Chuya Koyama
Award-winning manga about two siblings struggling to fulfill their childhood dreams to become astronauts. Inspired an anime series now streaming on Crunchyroll as well as a live-action movie.
"UQ Holder!" by Ken Akamatsu
From the creator of "Negima!" comes this fantasy set in a future where the existence of magic has transformed the world and a boy named Tota must leave his home village on the path of adventure.

"Mysterious Girlfriend X" by Riichi Ueshiba
A tale of addiction and lovesickness revolving around a strange bond between classmates Urabe and Tsubaki. Also inspired a popular anime series.

"A Town Where You Live" by Kouji Seo
School, relationships, and comedy are combined in this manga about a girl who moves from the city to the countryside.
"Yamada-kun and the Seven Witches" by Miki Yoshikawa
Two students – a boy and a girl – unexpectedly swap bodies and must uncover the secrets of the "Seven Witches" at their school, who each possess a different power. Recently adapted into a TV drama.

"As the Gods Will - The Second Series" by Muneyuki Kaneshiro (story) & Akeji Fujimura (art)
What seems like just another boring day at school becomes a deadly and surreal game, and student Shun Takahata must find out who is behind it.

"My Wife is Wagatsuma-san" by Yuu Kuraishi (story) & Keishi Nishikida (art)
One day, a girlfriend-less student wakes up 10 years in the future to discover he is married to the prettiest girl in school. How did it happen and where is their relationship going?

"Fort of Apocalypse" by Yuu Kuraishi (story) and Kazu Inabe (art)
Accused of a crime he did not commit, a young boy is sentenced to life in prison only to find himself at the center of an outbreak of zombies!

"COPPELION" by Tomonori Inoue
20 years after a nuclear meltdown devastates Tokyo, three girls who were genetically engineered to be immune to radiation are sent into the mysterious disaster area to search for survivors.

"The Seven Deadly Sins" by Nakaba Suzuki
In this comedic fantasy adventure, a princess goes on a quest to reassemble a disbanded group of knights when her kingdom is taken over by the evil Holy Knights.
---------
Patrick Macias is editor in chief of Crunchyroll News. He is also the editor of Cosplay USA magazine. Check out his blog at http://patrickmacias.blogs.com