Starts Jan/9 at 11:00 am Pacific Time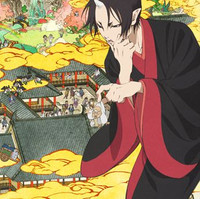 More and more new winter 2014 announcements are being unleashed from Crunchyroll today, and the latest title in the spotlight is the supernatural comedy Hozuki no Reitetsu, based on the manga by Natsumi Eguchi.
Hozuki no Reitetsu is set to broadcast every Thursday starting on January 9 at 11:00 am Pacific Time for its premium members. Free users will be able to view this series one (1) week after initial broadcast on Crunchyroll. More information can be found on www.crunchyroll.com/hozuki.
Story
"Hozuki is the aide to the Great King Enma. Calm and super-sadistic, Hozuki tries to resolve the various problems in Hell, including a rampaging Momotaro and his companions. However, he also likes spending his free time on his hobbies, such as fawning over cute animals and raising 'Goldfish Flowers.'"
Hozuki no Reitetsu will be available to users in the following territories: U.S.A, Canada, Mexico, United Kingdom of Great Britain and Northern Ireland, South Africa, Australia, New Zealand, Netherlands, Denmark, Finland, Norway, Sweden, Iceland, Turkey, Belize, Costa Rica, El Salvador, Guatemala, Honduras, Nicaragua, Panama, Argentina, Bolivia, Brazil, Chile, Colombia, Ecuador, Guyana, Paraguay, Peru, Suriname, Uruguay, Venezuela, Europe, Middle East, and Arab League.
---------
Patrick Macias is editor in chief of Crunchyroll News. He is also the editor of Otaku USA magazine. Check out his Tumblr at japanesefashioninferno.tumblr.com.