Additional lot sold earlier this month sold out in 7 minutes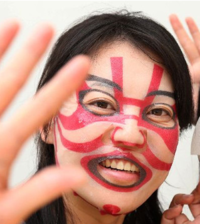 When Kabuki item vendor, Isshin Do Honpo introduced the Kabuki Face Pack last month, I wondered if they anticipated the extreme popularity that resulted from the beauty product! The pre-packaged beauty masks with two types of traditional Kabuki make-up printed on them were first made available for online sales on December 6th at 4500 yen and the set sold out completely by the next day.
The beautifully designed beauty mask was a previous second place winner of a design competition in 2008 that was hosted by Tokyo Midtown. They had to overcome some initial product issues, such as bleeding prints before it became an actual product. The paper beauty face mask with a printed design is the first in the world.
The Kabuki make-up design used for the masks are actual designs taken from Kabuki plays. The red design is from Shibaraku, one of the Kabuki Juhachiban (18 Great Plays).
The blue mask design is also from a Kabuki play called Funabenkei, the make up design is a tribute to the spirit of Tairano Tomonori.
Simple visual instructions are also included in the bilingual brochure that comes with the mask set for 880 yen.
Here, you can see the models with a dry mask on the right and a wet mask in use on the left. Photos via the MSN Sankei site.
Once you wet the mask with the included moisturiser and apply, the paper becomes translucent and it looks like you have the make-up on. The mask is loaded with Japanese ingredients such as Japanese Camellia, Sakura and green tea for beautiful skin.
According to Nikkei Trendy, since the masks completely sold out of the original 4500 sets of the planned December lot in 2 days after going on sale online last month, they added an additional 1000 sets originally reserved for New Year's sales. However, all of that lot was snached up in 7 minutes of going up for sale!
Although there was enough promotion before the sale, Isshin Do's CEO says he is still suprised that 40% of the purchases were made by male customers. The company is waiting for the inventory to be replenished and once they have enough to restock, it will be available at retail shops in the Tokyo Midtown shopping mall, Haneda Airport and their website.
(c) Isshin Do Honpo, Inc
c 2014 Microsoft
©2014 Nikkei Business Publications, Inc. All rights reserved.