Yuzuru Hanyu's popularity sky rockets after medal win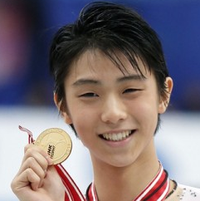 Men's figure skating in the 2014 Sochi Winter Olympic Games created another star recently, and it is 19-year-old Yuzuru Hanyu. His elegant yet powerful performance not only scored him the gold medal, but the attention of meme creators on internet looking for another subject to work with. Many memes based on Yuzuru's reaction from the gold medal winning performance are already crowding the internet.
Yuzuru Hanyu, a 19-year-old male figure skater who just became a gold medalist at the Sochi Winter Olympic Games 2014. His androgynous looks, a long and lean physique for an Asian male and the cute personality who loves Pooh bear is fascinating many Japanese people and has now inspired many memes.
via @co604153
The above image was posted asking for people to start the summons.
via @negiraichi
via @ksksmofmof
Hey, I have the Dragon Ball photo app, too!
via @f3zn
via @__mackee
Look, Pooh Bears!!

Yuzuru's love for Pooh bear became viral when the above image of his private room was revealed because it was filled with Pooh and the phrase Pooh's Hanyu Hunt was created on the internet shortly after.
via @JPNG5
This photo from the time Yuzuru received the best score in the history of men's short program in Winter Olympics history became viral not only for the record but also for the visual reaction of his coach, Yoshiko Kobayashi.
via @hanyugazou
This image was inevitable.
via @hanatarotaro
Also inevitable.
via @hanjyuku_kitune
Yuzuru opening the Japanese sliding panel and then artistically closing it. I personally think these are the best takes on the meme.
via @dolceione_gh
Ice No Prince Sama - A Jump That Is Better Than A Kiss -
Because of Yuzuru's many prince-like qualities, this was also inevitable.
via @asaka1018
Believe that he is an idol now.
Many fans hope Yuzuru cosplays Shinji Ikari from Neon Genesis Evangelion and this image of Yuzuru as Shinji created by an unknown fan became viral on Twitter.
via @hanyugazou
Some fans agree that he also reminds them of Hakutaku from Hozuki No Reitetsu.
via @BELCORNO
No Japanese character fascination is complete without latte art.
Source: Hyoka Sokuhou, NAVER