VIZ will be adding two book to its Studio Ghibli Library in the fourth quarter of the year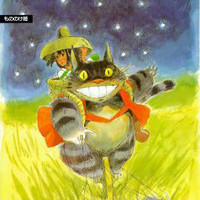 VIZ Media announced plans to expand their Studio Ghibli Library imprint expansion with two books in the fourth quarter of the year. A Princess Mononoke art book re-release will be joined Hayao Miyazaki's early, 1980 watercolor version of the story.
Nausicaa.net explains the proto-Princess Mononoke:
"Mononoke Hime" (Princess Mononoke) is a 100-page "beauty and the beast" story compiled from imageboards that had apparently been laying around unused since 1980. Most of the large 30 x 30 cm pages of this book contain a single illustration with a caption of dialog on the following page.
.
.
.
This book is an early draft of Miyazaki's 1997 movie of the same name. While there are still a few similarities to the movie, such as an early battle scene with one man against uneven forces and a menacing "Iron Town," neither the book's plot nor the book's characters could possibly be confused with those of the movie. For instance, the two main characters of the book are a big Totoro-shaped mountain lion and a demure but determined girl who only wishes to help her father. The book is also set in a more recent Japanese feudal era than is the movie.
Viz describe the books...
THE ART OF PRINCESS MONONOKE · MSRP: $34.99 U.S. / $39.99 CAN ·
Hardcover Available August 2014
A rerelease of the popular Studio Ghibli art book, featuring an all new translation and presentation. The hardcover edition features insightful interviews, concept sketches, character art and finished animation cels from the critically acclaimed fantasy action film by Oscar-winning director Hayao Miyazaki. Released in 1997,Princess Mononoke was the first Hayao Miyazaki film to break into the American mainstream. The journey from initial idea to the big screen is captured here in stunning detail and also includes a look at Miyazaki's original concept art and the use of computer graphics technology in the film's production.
PRINCESS MONONOKE: THE FIRST STORY, by Hayao Miyazaki ·
MSRP: $34.99 U.S. / $39.99 CAN · Hardcover Available October 2014
An oversized, lavishly illustrated storybook featuring original watercolor art by legendary filmmaker Hayao Miyazaki, this is the original Princess Mononoke story created by Miyazaki in 1980 while he was first conceptualizing the landmark animated film that would later be released to universal acclaim seventeen years later. As an initial version of the tale, it offers a new and different perspective from the final version presented in the film. After a long, exhausting war, a samurai lost in a forest encounters a giant wildcat – a mononoke. The beast saves his life, but at the price of his daughter's hand in marriage...

------
Scott Green is editor and reporter for anime and manga at geek entertainment site Ain't It Cool News. Follow him on Twitter at @aicnanime.