Her 1st solo single "Principle" will be released on April 30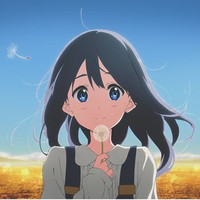 As reported, voice actress Aya Suzaki will make her solo singer debut with "Principle," the theme song for Kyoto Animation's highly anticipated feature film Tamako Love Story. A 100-second trial listening video (music only) for the song is now online. Her first single as herself hits stores on April 30, four days after the release of the film in Japan. How do you like her song?
Suzaki, who has voiced the protagonist character of the anime, Tamako Kitashirakawa, previously sang "Dramatic Market Ride" and "Neguse," the OP/ED songs for the 12-episode TV series Tamako Market under her character name Tamako. And "Koi no Uta" (the song of love), the coupling song for the "Principle" CD single, lists Tamako Kitashirakawa as the singer of the song.
The jacket illustration for "Principle"
The flyer
1st teaser
2nd teaser
Source: "Tamako Love Story" official site
© Kyoto Animation/Usagiyama Shoutengai