Starts tomorrow, April 10, at 10:00am Pacific Time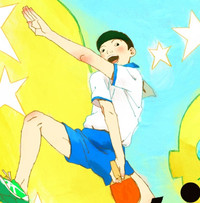 Funny how things work out sometimes… Crunchyroll's latest announcement for the spring season of anime is Ping Pong the Animation, helmed by acclaimed director Masaaki Yuasa of Kick-Heart fame.
Ping Pong the Animation as part of its spring simulcasts, and is set to broadcast every Thursday starting on April 10, at 10:00am Pacific Time, and free members able to watch one week later. More information can be found on www.crunchyroll.com/pingpong.
Background and story
Based on the manga of the same name by Taiyou Matsumoto, Ping Pong the Animation will be turned into anime for the first time and aired in Fuji TV's powerhouse block, noitaminA. It is about high school student Yukata Hoshino, nicknamed Peco. He and his childhood friend, Makoto Tsukimoto, nicknamed Smile, are both part of the local table tennis club and are both naturally inclined towards the sport, although Smile's quiet personality keeps him from winning against Peco. The club's teacher takes note of this and tries to develop Smile's talents and change his attitude towards table tennis.
Director Masaaki Yuasa, who previously worked on the highly acclaimed film "Mind Game" and other titles such as the crowd-funded Kick-Heart, will be helming up the series, and Tasunoko Production, whose other works includes Gatchaman Crowds, will be handling the animation production. Newcomer Fukujuro Katayama will be starring as Peco, and Kouki Uchiyama, also known as Ichika Orimura from Infinite Stratos, is cast as Smile.
Ping Pong the Animation will be available to Crunchyroll's audience in the following territories: Europe (excluding Russia and UK), Algeria, Bahrain, Comoros, Djibouti, Egypt, Eritrea, Iraq, Jordan, Kuwait, Lebanon, Libya, Mauritania, Morocco, Oman, Palestine, Qatar, Saudi Arabia, Somalia, Sudan, Syria, Tunisia, United Arab Emirates, Yemen, Cyprus, Iran, and Israel.
*Please note there is a 6-month holdback for viewers in French-speaking regions
---------
Patrick Macias is editor in chief of Crunchyroll News. He is also the producer of the new Crunchyroll x Tokyo video series.