The perfect limited edition comes with Nendoroid Puchi figures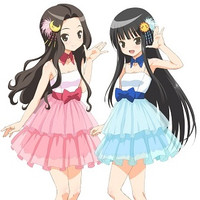 With the announcement for the release of their 3rd album "PARTY TIME" scheduled on June 14, popular anison duo of two high school girls from Hokkaido, ClariS, revealed their newest artist illustration on their official site today on April 15. Hideyuki Morioka, who is known as the character designer/animation director for the Sayonara, Zetsubou-Sensei anime series, drew the original art, and the production company Shaft finished it up with Animesh.
The 12-song album contains 8th single "Colorful," 9th "CLICK," 10th "STEP," and 9 new songs. The perfect limited edition (4,900 yen) comes with Nendoroid Puchi figures of ClariS (reunion ver.), while the first limited edition (3,500 yen) includes a DVD containing PVs, CMs, and textless OPs.
Nendoroid Puchi ClariS (reunion ver.)
This is the third ClariS illustration for Morioka following 6th single "Luminus" and 8th "Colorful." Other
artists who previously drew the duo's illustrations include Hiroyuki Oda/Hiro Kanzaki for 1st "irony" and
7th "reunion," Ume Aoki for 2nd "Connect," Mel Kishida for 3rd "nexus," Akio Watanabe for 4th "Naishi
no Hanashi," Satomi Higuchi for 5th "Wake Up," and Nobuhiro Sugiyama for 9th "CLICK." Check the
illustrations below. Which ClariS is your most favorite version?
3rd album "PARTY TIME" illustration
9th single "CLICK" illustration
8th single "Colorful" illustration
2nd album "SECOND STORY" illustration
7th single "reunion" illustration
6th single "Luminous" illustration
5th single "Wake Up" illustration
4th single "Naisho no Hanashi" illustration
3rd single "nexus" illustration
2nd single "Connect" illustration
1st single "irony" illustration
Source: ClariS official site
© SME Records Inc.