Directed by Taisuke Kawamura (Nodame Cantabile, Himitsu no Akko-chan)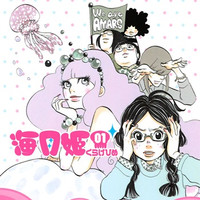 It is officially announced today on April 17 that a live-action film adaptation of Akiko Higashimura's Kurage Hime/Princess Jellyfish manga is set for a December 2014 release with the launching of its official site. The otaku comedy manga has been serialized in Kodansha's Kiss since its 21st issue of 2008 and now 13 tankobon volumes are available. The total print run in Japan has reached 2.7 million. The 11-episode TV anime adaptation was animated by Brain's Base and aired on Fuji TV's noitamina block from October to December 2010. Popular anime voice actress Kana Hanazawa voiced the protagonist girl Tsukimi Kurashita in the TV anime.
Taisuke Kawamura, who worked on several live-action adaptations based on popular manga series including Nodame Cantabile (Saishu Gakusho Kou-Hen in 2010), Kochikame - The Movie: Save The
Kachidoki Bridge! (2011), and Himitsu no Akko-chan (2012), directs the film with a script by Toshiya Ohno
(Suite PreCure♪, Gatchaman Crowds). 20-year-old actress Rena Nounen plays Tsukimi Kurashita, following
her first leading film, Hot Road, which is scheduled to be released on August 16. She gained a national
popularity by her portrayal as Aki Amano in the 2013 NHK Asadora Amachan.
The cast:
Rena Nounen as Tsukimi Kurashita
Masaki Suda as Kuranosuke Koibuchi
Hiroki Hasagawa as Shu Koibuchi
Chizuru Ikewaki as Banba
Rina Ohta as Mayaya
Tomoe Shinohara as Jiji
Azusa Babazono as Chieko
(from left)Rena Nounen, Masaki Suda, Hiroki Hasagawa, Chizuru Ikewaki, Rina Ohta, Tomoe Shinohara,
Azusa Babazono
The tankobon 1st volume cover
The 13th volume cover
Source: Comic Natalie
© 2014 Movie "Kurage Hime" Production Committee
© Akiko Higashimura/Kodansha