5 shows, so much metal...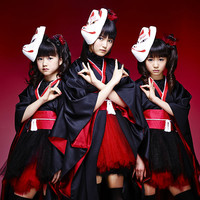 Japan's pint-sized hard rocking headbanging J-pop idol trio, BABYMETAL, are about to embark on their first-ever world tour. Sadly (for some of us), the girls won't be setting the USA ablaze quite yet, but converts in the UK, France, and Germany will soon be worshipping the fox god up close and personal in the event horizon of BABYMETAL over the month of July.
The main event of the tour is sure to be BABYMETAL's appearance at the Sonisphere Festival UK in England over the 4th of July weekend, where members Su-metal, Moametal, and Yuimetal will be sharing the stage with genuine monsters of rock such as Metallica, Iron Maiden, Alice in Chains, and even Limp Bizkit!
As for the other tour dates, BABYMETAL has handily mapped them out via the official image below.
---------
Patrick Macias is editor in chief of Crunchyroll News. He is also the editor of Otaku USA magazine. Check out his rather amazing Tumblr at japanesefashioninferno.tumblr.com.