The currently last Gundam TV series directed by Yoshiyuki Tomino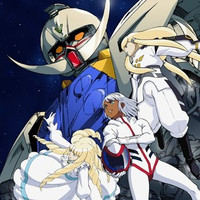 It is officially announced that Bandai Visual will release two Blu-ray disc sets of Sunrise's 1999-2000 TV anime∀ Gundam (Turn A Gundam) in Japan. The currently last Yoshiyuki Tomino-directed Gundam TV series was aired on Fuji TV for 50 episodes TV from April 9, 2009 to April 14, 2000, then two compilation films "∀ Gundam I: Earth Light" and "II: Moonlight" were released simultaneously in February 2002. The Blu-ray disc of the two films were already released in Japan in July 2011, and they are not included in this box sets.
The first set containing the first 25 episodes will be released on September 24, then the second set for the episode 26-50 will be on December 25. Both set comes with a 100-page booklet, newly-recorded audio commentary, and illustrated box by the original character designer Akira Yasuda. Amazon Japan has already begun accepting pre-orders for both sets at the price of 34,560 yen (about US$340).
Loran Cehack
∀ Gundam
Kihel Heim
Dianna Soreil
Sochie Heim
Guin Sard Lineford
Harry Ord
Sumo
via: Akiba Souken
© SOTSU, SUNRISE