Miku Ito and Sachika Misawa voice the lead characters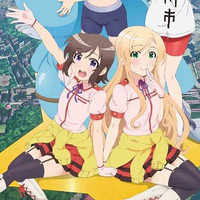 The official site for the upcoming TV anime adaptation of Kotaro Kosugi's 4-panel manga Futsu no Joshikousei ga LocoDol Yattemita (Ordinary High School Girls Tried Being Local Idols) today posted a new key visual featuring the four main girls with Nagarekawa-city's yuru chara, Gyoshin-kun, and also announced its premiere schedule.
The premiere schedule:
July 3: TBS 26:16~
July 6: Sun TV 25:00~
July 10: CBC 27:26~
July 12: BS-TBS 25:30~
New key visual
1st key visual
The story focuses on two high school girls Nanako Usami (CV:Miku Ito) and Yukari Kohinata (CV: Sachika
Misawa), who happen to work as a local idol unit "Nagarekawa Girls." The "Nagarekawa-city" in the story is
based on the real Nagarekawa area in Hiroshima Prefecture. The two main voice actresses Ito and Misawa
has hosted a bi-weekly promotional program for the anime, "Nagarekawa City Channel" on YouTube.
Currently the episode 0 and 1 are available.
"Nagarekawa City Channel" episode 1 (posted on May 30)
Source: "Futsu no Joshikousei ga LocoDol Yattemita" anime official site
© Kotaro Kosugi, Ichijinsha/Locodol Production Committeee