Co-directed by Takashi Yamazaki (Always) and Ryuichi Yagi (Friends)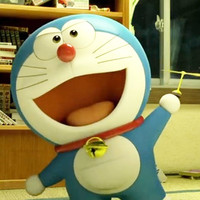 It is officially announced today on August 19 that Stand by Me Doraemon, the first 3DCG film based on the popular manga series Doraemon created by Fujiko F. Fujio, will be also distributed in 21 countries/regions in the world. According to the distributor of the film Toho, the confirmed countries/regions are: Korea, Taiwan, Hong Kong, Macao, Singapore, Malaysia, Brunei, Vietnam, Thailand, Laos, Cambodia, Myanmar, the Philippines, Indonesia, Italy, San Marino, Vatican, Malta, Monaco, Switzerland, and Spain.
The first 3DCG film for the franchise is co-directed by Takashi Yamazaki (Always, Space Battleship Yamato) and Ryuichi Yagi (Friends: Mononoke Shima no Naki) with a script by Yamazaki. The story is based on the manga's 1st episode "Mirai no Kuni Kara Harubaru to" (All the way from the country of the future), with two of the most popular episodes, "Sayonara, Doraemon" (Good bye, Doraemon), and
"Nobita no Kekkonzenya" (Nobita's night before wedding). It was premiered in Japan on August 8, then
earned an amazing 3.27 billion yen (about US$31.8 million) with 2.44 million ticket sales in its first 10
days run.
Trailer
via: Mantan Web
© 2014 "Stand by Me Doraemon" Production Committee