"I considered uploading files as a good manner."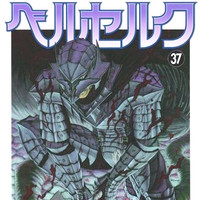 It has been quiet for a while, but it doesn't mean the Japanese police forget their job. Fukuoka Prefectural Police's Anti-Cyber Crime Division and its East station arrested a 27-year-old unemployed man from Kaga-city, Ishikawa Prefecture, on suspicion of copyright infringement (infringement of public transmission rights) on September 10. According to the police, the man is accused of using the file-sharing software Share to upload the 37th volume of Kentaro Miura's popular manga series Berserk to the internet without the permission of the copyright holders (Miura and the publisher Hakusensha) on April 28. The volume was published in Japan in March 2013. The suspect said that he had used the file-sharing software for 10 years and he uploaded those files because he considered it as a good manner. He is also arrested for another charge of illegal music uploading.
On the same day, Miyagi Prefectural Police's Consumer and Environmental Protection Division and its
Shiogama station arrested a 44-year-old office worker from Shiogama-city for illegally uploading the second
volume of K-ON!, the second volume of Tennen Jyoshiko Monogatari, Jyokura no Okite, Kanbanmusume wa
Sashiosae, and the first volume of Working!!. The suspect also used the file-sharing software Share. The
police already searched his house and seized his PCs used for the crime. He confessed to the police,
"I had felt sorry for the people who always download, so I uploaded the files for them."
Uploading the contents of manga tankobon or magazines to the internet without the respective copyright
holder's permission is illegal in Japan. The criminal act can result in a 10-year jail sentence or a fine of
10million yen (about US$98,000) in the worst case.
Source: ACCS
Berserk image © Kentaro Miura, Hakusensha
---
Related:
Man Arrested for Uploading "Attack on Titan" Manga 10th Volume
Man Arrested for Posting "Crayon Shin-chan" and "Black Jack" Anime on Video Sharing Site FC2
39-year-old Man Arrested for Uploading "Attack on Titan," "One Piece" TV Anime Episodes
Chinese Man Arrested for Selling Pirated Boa Hancock Figures
Another Share User Arrested for Uploading "K-ON!!" TV Anime
45-year-old Man Arrested for Uploading 4 TV Anime including "Non Non Biyori," "Nagi no Asukara"
38-year-old Unemployed Man Arrested for Uploading "Dokidoki! PreCure"
33 People Arrested for Illegal Uploading of Anime, Films in 3 Days
36-Year-Old Unemployed Man Arrested for Uploading "Gintama" Manga
47-Year-Old Unemployed Man Arrested for Uploading "Berserk" Manga
Unemployed Man Arrested for Posting Hayao Miyazaki's "The Wind Rises" on FC2 Site
Man Arrested for Uploading "Tamako Market" Anime Episode