"Ultraman Max" joins the catalog along with more J-Drama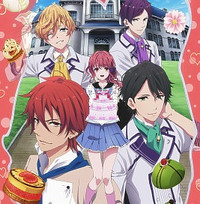 As announced during Crunchyroll's New York Comic Con panel, the latest addition to the anime simulcast lineup is BONJOUR♪Sweet Love Patisserie. More info on that later, but for now you can dig the synopsis below, along with info on catalog additions Ultraman Max, Future Diary, and Switch Girl!
Synopsis:
Sayuri Haruno dreams of becoming a pastry chef and enrolls in Fleurir Confectionary Academy, an elite school located in Tokyo's trendy Aoyama district. At Fleurir, she finds herself surrounded by charming boys, each one distinctly unique. Out of the entire class, Ryo Kouduki's desire to become a pastry chef is the strongest. Blessed with unparalleled technique, instructor Mitsuki Aoi acts like a prince and is hugely popular at the school. Gilbert Hanafusa, the mood maker of the bunch, is a student from France. Yoshinosuke Suzumi is not very good at expressing his feelings, but underneath his stony exterior lies a wholehearted passion for wagashi (Japanese sweets).
But wait, the excitement doesn't stop there! Crunchyroll is adding some tokusatsu flavor to its catalog in the form of Ultraman Max. The 2005 series—which features episode direction from the likes of Takashi Miike (Audition, Ichi the Killer), Shusuke Kaneko ('90s Gamera trilogy), and more—launches on October 14.
Ultraman Max is categorized as Drama and will be available in the United States, Canada, Latin America, UK, Australia, and New Zealand.
Synopsis:
In the very first episode a strange visitor from space notices Toma's bravery when the young man risks his own life to help save a lost little boy from danger. The alien gives Toma the power to become the mighty superhero Ultraman Max, a towering red and silver giant 40 meters tall. When two gigantic monsters threaten the world, Toma uses his new powers to destroy them.
The captain of Team DASH, the elite squad that defends Earth from otherworldly dangers, soon learns of Toma's brave actions and invites Toma to join Team DASH at their headquarters in Base Titan, a massive off-shore structure in Tokyo Bay. Their super weapons include the fighter jets DASH Bird 1 and DASH Bird 2 as well as the jet engine equipped super car DASH Alpha. The other members of DASH include Agent Koba, the hot-headed weapons exper, Agent Mizuki, DASH's ace pilot as brave as she is beautiful, Agent Sean from America, and Agent Tabata, who creates and maintains the team's super weapons. Also on the team are two android members, Ellie, who looks like a beautiful girl but is really a high powered super computer, and her companion Coco, a cute robot mascot.
Finally, there's more drama coming to the catalog. Future Diary is coming on October 15, as is Switch Girl. Both dramas will be available in the following territories: USA, Canada, Central and South America including Caribbean Europe except Russia, South Africa Australia, and New Zealand.
Synopsis:
An original drama based off of the hit series "Future Diary", which has sold over 4 million copies. This show is all about non-stop romantic suspense. Seven people have been given cell phones that show them the future, called "Future Diaries", and have bet their futures in the ultimate survival game. Its themes are "Destruction and rebirth" and "The ultimate love." This drama contains a message: when you decide to live strongly by your own power, and go forward with the person you love, a hopeful tomorrow awaits.
Synopsis:
On the outside, Nika is the perfect teenage girl, with perfect fashion sense and perfect makeup. But at home, she wears glasses and sweatpants, and dresses like an old man. She can switch between "On" and "Off" at will, but a new student, Arata, sees her in her "Off" mode... A super-hot teenage girl is actually a super-slob! This hilarious romantic comedy shows the real self of a girl who wants to hide it more than anything.
-------
Joseph Luster is the Games and Web editor at Otaku USA Magazine. He also likes to draw comics. His blog can be found at subhumanzoids. Follow him on Twitter @Moldilox.