Directed by Makoto Hoshino (the main director for the 2nd season)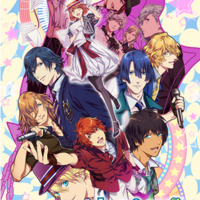 The official site for the Uta no Prince-sama anime series today announced the title, main visual, staff, and premiere schedule for the upcoming third season of the TV anime following the first season Maji LOVE 1000% in 2011 and second season Maji LOVE 2000% in 2013.
The third season is titled Uta no Prince-sama♪ Maji Love Revolutions, and is scheduled to premiere in Japan in April 2015. Makoto Hoshio, who served as the maim director for the second season, directs the third season. Yu Kou (Chrono Crusade, Zero no Tsukaima: Futatsuki no Kishi/Princesse no Rondo) directed the first season, then co-directed the second with Yuuki Ukai.
The third season main staff:
Original story: Kanon Kunozuki/Broccoli
Director: Makoto Hoshino
Series composition: Tomoko Konparu
Original character design: Chinatsu Kurahana
Anime character design/General animation director:Mitsue Mori
Music: Elements Garden
Anime production: A-1 Pictures
Production: Uta☆Pri Production Committee
Main visual
via: "Uta no Prince-sama" official Twitter
© UTA☆PRI-2 PROJECT