While the overall book/magazine sales decreased by 4.5%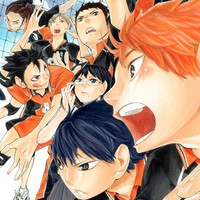 According to the recent report by Research Institute for Publications, which is operated by AJPEA (All Japan Magazine and Book Publisher's and Editor's Association), the manga sales in Japan for year 2014 was 1% up from the previous year. The modest growth was supported by new top sellers including Haruichi Furudate's Haikyu!! and Io Sakisaka's Ao Haru Ride, both had very successful TV anime or live-action film adaptations last year, in addition to the continuously popular series like Eiichiro Oda's One Piece and Hajime Isayama's Attack on Titan.
Meanwhile, the overall print book/magazine sales was 1,606.5 billion yen, which was down 4.5% from 2013 and the biggest drop ever. The print book/magazine sales in Japan has kept falling for consecutive 10 years. Research Institute for Publications says that the biggest factor for last year's drop was the consumption tax increase in April from 5% to 8%. The peak of the Japanese book/magazine market was
1996 making 2,656.4 billion yen, then the size of the market has shrunk to two fifth in 18 years.
The overall print book/magazine sales in 1990-2014
---
Oricon's 2014 Manga Sales Ranking Top 30 (series)
1 (1). One Piece -11,885,957 (18,151,599 in 2013)
2 (2). Attack on Titan -11,728,368 (15,933,801)
3 (22). Haikyu!! - 8,283,709 (2,056,241)
4 (27). Tokyo Ghoul - 6,946, 203 (1,666,348)
5 (3). Kuroko's Basketball - 6,729,349 (8,761,081)
6 (5). Naruto - 5,505,179 (5,553,933)
7 (23). Ace of Diamond - 4,681,031 (2,010,045)
8 (4). Magi - 4,657,971 (7,151,001)
9 (-). The Seven Deadly Sins - 4,633,246
10 (7). Assassination Classroom - 4,622,108 (4,595,820)
11 (-). Hozuki no Reitetsu - 4,385,701
12 (10). Terraformars - 4,295,257 (3,602,630)
13 (21). Ao-Haru-Ride - 4,166,875 (2,106,452)
14 (-). Yowamushi Pedal - 4,098,510
15 (6). Silver Spoon - 3,957,991 (4,858,699)
16 (30). Nisekoi - 3,816,372 (1,542,417)
17 (9). Fairy Tail - 3,275,885 (3,790.151)
18 (15). Bleach - 2,986,968 (2,752,588)
19 (-). Shokugeki no Soma - 2,644,122
20 (-). Yo-Kai Watch - 2,588,791
21 (14). Kingdom - 2,516,278 (2,805,945)
22 (-). Kyo wa Kaisha wo Yasumimasu - 2,472,101
23 (11). Kimi ni Todoke - 2,397,887 (3,428,352)
24 (12). Gintama - 2,394,263 (2,864,734)
25 (24). Detective Conan - 2,380 774 (1,966,206)
26 (28). Black Butler - 2,289,738 (1,562,863)
27 (-). Noragami - 2,231, 805
28 (-). One Punch-Man - 2,173,339
29 (-). Gekkan Shouko Nozaki-kun - 1,967,675
30 (20). Chihayafuru - 1,937,059
---
Source: Tokyo Shimbun
Haikyu!! image © Haruichi Furudate/Shueisha