Produced by Takahiro Yamada (μ's "Bokura no LIVE Kimi tono LIFE")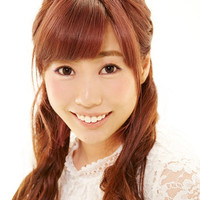 26-year-old voice actress Aina Kusuda announced at the "KusuKusu Kussun Thankussun Matsuri" event in Tokyo on May 9 that she will make her solo singer debut this fall. She performed one of her upcoming solo songs, "Todoke Mirai!" (Reach, Future!), whose lyrics was written by herself, for the first time at the event. The project is produced by Takahiro Yamada, well-known for his works for μ's, including its 1st single "Bokura no LIVE Kimi tono LIFE."
After working as a maid in a made cafe in Akihabara, she made her professional voice actress debut as Nozomi Tojo in the Love Live! School Idol Project franchise in 2011. She has also performed as a member of the franchise's VA unit μ's, and as a member of two-member unit Please & Secret with Pile (voice of Maki Nishikino).
いろんな人が関わってて、助けてくれて支えてくれて、この発表ができたことは、本当に奇跡のようで、これから先も大切にしていきたいです! これからも楠田亜衣奈をよろしくお願いします!! ありがとう♡ pic.twitter.com/zVlZ9uDMEB

— 楠田亜衣奈 (@kusudaaina) May 9, 2015
昨日のさんくっすん祭りin東京!! 改めてありがとうございましたぁ! バンドのみなさんと♪ キーボード!たつや! ベース!まなぴー! ドラム!のぞむっち! ギター!ゆうた! そして、今回マニピュレーターで入ってくれた、しんちゃん! pic.twitter.com/yj5E4eNPif

— 楠田亜衣奈 (@kusudaaina) May 10, 2015
via: Natalie