Featuring an original story different from the manga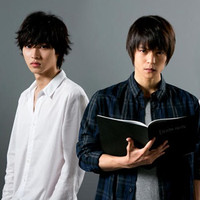 A character visual photo of Masataka Kubota as Light Yagami, Kento Yamazaki as L, and Mio Yuuki as Near for the upcoming live-action TV drama adaptation of the Death Note manga series created by Tsugumi Ohba (story) and Takeshi Obata (art) is revealed to Japanese media today. The popular manga has been adapted into three live-action films, one TV anime series, two novelizations and Japanese and Korean musical plays.
Kubota is now 26 years old, and best known as the third protagonist Yuto Kuronaga in the long-running yankee action film series Gachiban. He will play Light as university student, who was a high school student in the beginning of the manga story. 20-year-old Yamazaki also stars as Rita Terasaka in the upcoming live-action film adaptation of Momoko Kouda's shoujo manga series Heroine Shikkaku to be released in Japan on September 19. 16-year-old Yuuki recently played Yukiko Kanzaki in the Assassination Classroom live-action film.
The TV drama is set to begin on Nihon TV and its affiliates at every Sunday night from this July. According
to the producer's comment, while using its basic premise, the TV drama will tell a totally different story
from the original manga, which even the fans of the series can't expect what will happen next.
(from left) Kento Yamazaki as L, Masataka Kubota as Light Yagami, Mio Yuuki as Near
via: Comic Natalie