Mystery novelist's four-volume series to be adapted in 2016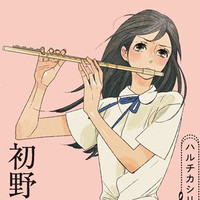 Promotion has launched for a 2016 anime adaptation of honkaku ("orthodox") mystert novelist Sei Hatsuno's HaruChika series. Tari Tari's Masakazu Hashimoto is back at P.A. Works, directing the production with Love Live!'s Asako Nishida adapting original character designs by Chaika's Namaniku. Prolific Reiko Yoshida is writing series composition.
Books from Japan describes the series:
In four chronologically sequenced stories, two members of a high-school wind ensemble display remarkable stores of knowledge and powers of deductive reasoning to solve a series of mysteries.
Narrator Chika Homura is a tenth-grader who plays flute in her school's wind ensemble, which is on the verge of having to disband due to dwindling membership. Playing Holmes to her Watson is tenth-grader Haruta Kamijo. A friend of Chika from their childhood days, he plays French horn in the ensemble. Their music teacher is Mr. Kusakabe, who in his youth was regarded as a rising star on his way to becoming a world-class conductor; Chika and Haruta, both quite smitten with him, are rivals for his affection. The overarching premise of the stories is that the two friends want to bring the wind ensemble back to full strength under Kusakabe's direction, and they must unravel the truth about a variety of incidents that occur in the course of their efforts to recruit new members.
In the title story, they are trying to get Maren Sei, an American boy of Chinese ancestry whose father is a professional saxophonist, to switch from the drama club to the wind ensemble, which sets off a contest between the two groups. The showdown takes the form of an improvisational skit, performed before the student body, in which the president of the drama club and its lead actress vie with Chika and Haruta; the winner is to be whoever manages to get Maren off stage in a manner that flows naturally from the development of the action, with a time limit of 15 minutes. Chika and Haruta emerge victorious, but the president of the drama club still attempts to prevent Maren from switching affiliations. Haruta nimbly heads off the attempt, and the wind ensemble gains a new member.
The so-called "Haru-Chika Series" featuring these two characters has been a huge hit, with four volumes of stories to date.
-----
Scott Green is editor and reporter for anime and manga at geek entertainment site Ain't It Cool News. Follow him on Twitter at @aicnanime.