Five-figure set will be shipped late November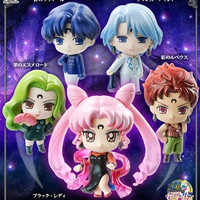 Bandai's official online store Premium Bandai has started accepting pre-orders for "Puchi Chara Pretty Soldier Sailor Moon Black Moon Edition," deformed figure set of the five members of the Black Moon Clan: Prince Demand, Blue Saphir, Crimson Rubeus, Green Esmeraude, and Black Lady. The group was appeared as the main antagonists in the second story arc of the Sailor Moon manga, and in the second TV anime series Sailor Moon R as well.
The set of the five 55mm-tall figures is priced at 4,428 yen (about 36.35 US dollars), and its scheduled shipping dats is late November of this year.
Prince Demand
Blue Saphir
Crimson Rubeus
Green Esmeraude
Black Lady
"Puchi Chara The Four Ayakashi Sisters Edition" released in June 2015
Source: press release