Character song live "Blue Field ~Finale~" will be held on December 19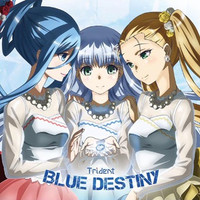 Flying Dog has posted a five-minute preview video for all six songs from "Blue Destiny," the second mini album of the three-member voice actress unit Trident from the Arpeggio of Blue Steel -Ars Nova- anime series. The album contains the theme song for the upcoming second film, Cadenza, to be released in Japan on October 3.
The members of the unit are: Mai Fuchigami (Iona), Manami Numakura (Takao), and Hibiku Yamamura (Haruna). They released their 10-song first full album "Purest Blue" on June 25, 2014, then released the seven-song mini album "Blue Snow" on January 28, 2015. The six-song second mini album will be available on September 16. The unit is scheduled to perform at the character song event "Blue Field -Finale~" to be held at Yokosuka Art Theater on December 19, alongside other two units from the anime, Blue Steels and Fog Student Council.
"Blue Destiny" preview
Song list:
1."Blue Destiny" Trident (Arpeggio of Blue Steel -Ars Nova- Cadenza theme song)
2. "Blue Rain" Trident
3. "Crystal Way" Iona (Mai Fuchigami) x Haruna (Hibiku Yamamura)
4. "Blazing Nova" Takao (Manami Numakura) x Iona (Mai Fuchigami)
5. "Nothing to fear" Haruna (Hibiku Yamamura) x Takao (Manami Numakura)
6. "Kawaranai Basho" (An Unchanged Place) Blue Steels
CD jacket illustration
"Purest Blue" (1st album lead track) short MV
"Blue Snow" (Arpeggio of Blue Steel -Ars Nova- DC theme song) MV
© Ark Performance/Shonen Gahosha/Arpeggio Partners