"Teekyu" 6 starts October 5, "Lance N' Masques" begins October 1st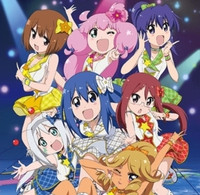 The fall season of anime at Crunchyroll continues apace as the comedy tennis short Teekyu returns for its 6th season. Also, there's more info on the previously announced simulcast of Lance N' Masques to share, so get a full update on both titles below!
Teekyu 6 continues in the same time slot as Teekyu 5 starting on Monday, October 5 at 10:30am Pacific Time, in the following territories: North America, South America, Canada, United Kingdom, Ireland, South Africa, Australia, New Zealand, Denmark, Finland, the Netherlands, Norway, and Sweden.
About Teekyu 6
The zany and wacky adventures of the girls in the Kameido High School Tennis Club continue in season 6 of Teekyu! It's questionable really how much tennis they actually play, but when the girls speak faster than chipmunks and jokes and references thrown out at the speed of light, maybe that doesn't really matter.

The cast all return to reprise their roles, including Kana Hanazawa as Marimo Bando, Kyoko Narumi as Nasuno Takamiya, Suzuko Mimori as Kanae Shinjo, Yui Watanabe as Yuri Oshimoto, Kaori Ishihara as Udonko Kondo, Yui Ogura as Tomarin, and Eri Kitamura as Anenkofu Kondo. The voice actresses all sing the opening song as well, "Earth Star Dream".
Lance N' Masques, based on a light novel by Hideaki Koyasu and illustrated by Shino, was previously announced by Crunchyroll as an acquisition at Anime Weekend Atlanta a few days ago, but now we final have more details to share. Look for Lance N' Masques on Crunchyroll every Thursday starting October 1st at 11:30am Pacific Time.
About Lance N' Masques
Lance N' Masques focuses on Yotaro Hanafusa, who is part of the last remaining order of knights in the 21st century, the "Knights of the World." While fighting as the mysterious Knight Lancer, he must hide his identity behind a mask. One day, he meets a girl named Makio Kidoin, and decides to watch over her after finding out that she lives alone.
Studio Gokumi, whose other works include Yuki Yuna is a Hero, The Severing Crime Edge and Hello!! KINMOZA, will be handling animation production. Daiki Yamashita, who voiced Tohya from Log Horizon and Sakamichi Onoda from Yowamushi Pedal, plays Yotaro, with Ari Ozawa, who also voiced Papi in MONSTER MUSUME EVERYDAY LIFE AS MONSTER GIRLS and Chiyo Sakura in Monthly Girls' Nozaki-kun, as Makio.
Lance N' Masques will be available to Crunchyroll members in the following territories: USA, Canada, United Kingdom, Ireland, Australia, New Zealand, South Africa, the Netherlands, Nordics, Central and South America, the Middle East, and North Africa.
--------
Patrick Macias is editor in chief of Crunchyroll News & Otaku USA magazine.
He is also the writer of HYPERSONIC music club, Paranoia Girls, & PARK Harajuku: Crisis Team!