Pre-orders for the Christmas day are accepted till December 3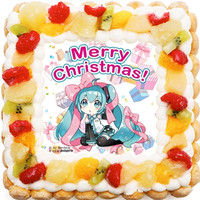 Tokyo-based official character cake shop PICTCAKEchara has started accepting orders for the 2015 Christmas cake featuring the most famous vocaloid character, Hatsune Miku. The two-type Miku illustrations are newly drawn by popular artist Nardack, well known for his main visual work for the Snow Miku 2015 event and various cover art works for Japanese light novel series. He previously provided four Miku illustrations for the shop's special birthday cakes, which are still available.
The 2015 official Miku Christmas cake is offered in three sizes: Mini (15cmx15cm/3,780 yen) for two to three people, Single (17cmx17cm/4,320 yen) for five to ten, and Double (22cmx22cm/8,640 yen) for ten to twenty. And the cakes are decorated by your choice of either vanilla flavor fresh cream or chocolate cream. To receive the cake exactly on the Christmas day, you need to pre-order it by 17:30 on December 3.
Hatsune Miku birthday cakes featuring the illustrations by Nardack
Source: press release