Sneakers are now displayed at Reebok CLASSIC Store Harajuku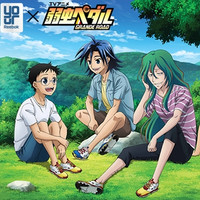 Footwear company Reebok will release two collaboration sneakers with the Yowamushi Pedal anime series from its casual line Reebok CLASSIC's Frylite in February 2016.
They use the uniform colors of the two high schools in the story, Sohoku High and Hakone Academy, as their main motifs. And each models have an embroidery of the school names, "SOHOKU" and "HAKOGAKU," on its heel part. All of the purchasers will also receive a clear file featuring a newly-drawn illustration of the four characters from each school: Sakamichi Onoda and Yuusuke Makishima from Sohoku, Sangaku Manami and Jinpachi Toudou from Hakone, wearing the collaboration sneakers.
The price for both sneakers is 12,960 yen (about 106 US dollars) and pre-orders are now accepted on Reebok's official online store and Premium Bandai till December 9. The sneakers are displayed at Reebok
CLASSIC Store Harajuku in Tokyo for a limited time of seven days from today to December 1.
Main Visual
Sohoku High Model
Hakone Acadmy Model
Clear File
Source: press release
(C) Wataru Watanabe (weekly Shonen Champion/Yowamushi Pedal GR Production Committee