Newest Macross TV anime series is set to premiere on April 3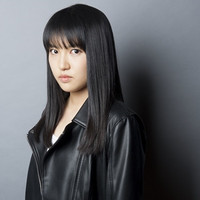 The official website for Macross Δ (Delta), the upcoming newest Macross TV anime series, has confirmed that Aichi-born 15-year-old singer JUNNA provides singing voice of Mikumo Guynemer, the mysterious ace vocalist of the five-member idol unit Walküre. The character's speaking voice is played by Ami Koshimizu (Hibiki Hojo/Cure Melody in Suite PreCure♪).
JUNNA has already performed as the lead vocalist in the unit's digital single "Ikenai Borderline" released in the end of last December, she was only 14-year-old at the time. She was born on November 2, 2000, and makes the youngest debut in the anime franchise with 34 years history.
JUNNA
---
It is also announced that the anime's OP and ED theme songs, "Ichido Dakeno Koi Nara (If It's a Love Only
for Once)" and "Run ga Pikkatto Hikattra (If Run Flashes), will be released from Flying Dog on May 11. "Ikenai
Borderline" is also included in the single. The unit's singing members are: JUNNA (Mikumo Guynemer), Minori
Suzuki (Freyja Wion), Kiyono Yasuno (Kaname Buccaneer), Nozomi Nishida (Makina Nakajima), and Nao Toyama
(Reina Prowler).
Macross Δ (Delta) is set to premiere on Tokyo MX at 22:30 on April 3 (JST). The website has also posted a
new 15-second CM featuring "Bokura no Senjyou" (Our Battlefield) performed by Walküre, but it is region-locked
outside of Japan for legal reasons.
Main Voice Cast:
Hayate Immelman: Yuuma Uchida (Sonic Speed Monkey in Blood Blockade Battlefront)
Freyja Wion: Minori Suzuki (the audition winner)
Mirage Farina Jenius: Asami Seto (Chihaya Ayase in Chihayafuru)
Mikumo Guynemer: Ami Koshimizu
Kaname Buccaneer: Kiyono Yasuno
Reina Prowler: Nao Tohyama
Makina Nakajima: Nozomi Nishida
Arad Moelders: Toshiyuki Morikawa
Messer Ihlefeld: Kouki Uchiyama
Chuck Mustang: Shinji Kawada
Ernest Johnson: Unshou Ishizuka
Roid Brehm: Kaito Ishikawa
Keith Aero Windermere: Ryohei Kimura
Bogue Con-Vaart: KENN
Hermann Kroos: Daichi Endoh
Cashim Eberhard: Shinnosuke Ogami
Theo Jussila/Xao Jussila: Kei Minegishi
Glamia the Sixth: Masaki Terasoma
Heinz the Second: Yuka Terasaki
---
3rd main visual
最新作『マクロスΔ(デルタ)』がTOKYO MX、BS11他にて4月よりテレビ放送されることが決定!さらに、本日より『マクロスΔ』キービジュアル第3弾が公開に!!https://t.co/IdUCZiDWqv #macross pic.twitter.com/DPmCwoWGqw

— 「マクロス」公式アカウント (@macrossD) February 5, 2016
1st main visual
放送まであと30分!特番「マクロスΔ 先取りスペシャル」WEB同時配信はスマホでもご覧いただけます!マクロスポータルhttps://t.co/xEEWv5B6cp、バンダイチャンネルhttps://t.co/rJz5RVjkYs pic.twitter.com/eHxWqrNMVv

— 「マクロス」公式アカウント (@macrossD) December 31, 2015
2nd main visual
放送まであと20分!特番「マクロスΔ 先取りスペシャル」のアニメパートは、最新作「マクロスΔ」のほぼ第1話を先取りエディションとして「約25分」の最新アニメ映像にていち早く放映しちゃうんです!#macross pic.twitter.com/4qWOzpuslu

— 「マクロス」公式アカウント (@macrossD) December 31, 2015
Main Staff:
Supervising Director: Shouji Kawamori
Director: Kenji Yasuda (Shugo Chara!, Croisée in a Foreign Labyrinth)
Series Composition/Scenarios: Toshizo Nemoto (Dog & Scissors, Inu x Boku SS)
Original Character Design: Chisato Mita (CAPCOM)
Anime Character Design: Majiro (Barakamon)/Yu Shindo (Persona4 the Golden ANIMATION)
Macross Visual Artist: Hidetaka Enjin (Aquarion EVOL mechanical art)
Valkyrie Design: Shouji Kawamori
Mechanic Design: Brunet Stanislas
Director of Photography: Atsushi Iwasaki (T2 Studio)
CG Director: Hironori Morino
CG Supervisor: Hiroyuki Kashima (unknownCASE)
CG Animation Director: Atsushi Sakiyama (unknownCASE)
Music Production: Flying Dog
Sound Director: Masafumi Mima
Anime Production: Satelight
Source: "Macross Delta" official website, Twitter
©2015 BigWest/Macross delta production Committee