Starts 4/6 at 10:35am PT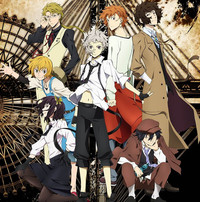 Ok! New season anime announcements resume today here at Crunchyroll News, and the first of the day is the latest from studio BONES! Bungo Stray Dogs streams on Crunchyroll starting Wednesday, April 6 at 10:35am PT for members worldwide except for Asia.
49-year-old Takuya Igarashi, best known for his works for Toei Animation's Ojamajo Doremiseries and BONES's 2014 TV sereis Captain Earth, is attached to direct alongside series composition writer Yoji Enokido (Revolutionary Girl Utena, Ouran High School Host Club) and character designer Nobuhiro Arai (Chaika - The Coffin Princess) for BONES.
About Bungo Stray Dogs
Kicked out of his orphanage and on the verge of starving to death, Nakajima Atsushi meets some strange men. One of them, Dazai Osamu, is a suicidal man attempting to drown himself in broad daylight. The other, bespectacled Kunikida Doppo, nervously stands by flipping through a notepad. Both are members of the "Armed Detective Agency" said to solve incidents that even the military and police won't touch. Atsushi ends up accompanying them on a mission to eliminate a man-eating tiger that's been terrorizing the population...
In the virtual city of Yokohama are individuals bearing the name of Bungo, "literary masters," who possess unusual powers likened to that name. Now begins the battle between the mysterious Bungo powers!
Main Voice Cast:
Atsushi Nakajima: Yuuto Uemura (Tsukito Totsuka in Kamigami no Asobi)
Osamu Dazai: Mamoru Miyano (Light Yagami in Death Note)
Doppo Kunikda: Yoshimasa Hosoya (Asahi Azumane in Haikyu!!)
Rampo Edogawa: Hiroshi Kamiya (Levi in Attack on Titan)
Akiko Yosano: Yu Shimamura (Haruka Haruno/Cure Flora in Go! Princess PreCure)
Junichiro Tanizaki: Toshiyuki Toyonaga (Mikado Ryugamine in Durarara!!)
Naomi Tanizaki: Chiaki Omigawa (Maka Albarn in Soul Eater)
Yukichi Fukuzawa: Rikiya Koyama (Tora in Ushio and Tora)
Ryunosuke Akutagawa: Kensho Ono (Tetsuya Kuroko in Kuroko's Basketball)
Atsushi Nakajima (CV Yuuto Uemura)
2016年TVアニメ放送予定の「文豪ストレイドッグス」本日は設定画を公開!第一弾は中島敦です。今後も順次設定画を公開していきますのでお楽しみに!PVはこちらから→  https://t.co/igBN91W4tZ  #bungosd pic.twitter.com/PXUI8m7Icl

— TVアニメ「文豪ストレイドッグス」公式 (@bungosd_anime) November 17, 2015
Osamu Dazai (Mamoru Miyano)
2016年TVアニメ放送予定の「文豪ストレイドッグス」設定画の公開第二弾は太宰治です!太宰さんがズザザザっとかっこよくアクションするPVはこちらです→  https://t.co/igBN91W4tZ #bungosd pic.twitter.com/AN6ps2UPjP

— TVアニメ「文豪ストレイドッグス」公式 (@bungosd_anime) November 24, 2015
Ryunosuke Akutagawa (CV Kenshō Ono)
2016年TVアニメ放送予定「文豪ストレイドッグス」設定画の公開第三弾は芥川龍之介です!異能力「羅生門」発動のシーンが印象的なPVはこちらから!→  https://t.co/igBN91W4tZ #bungosd pic.twitter.com/zfLbBsddF7

— TVアニメ「文豪ストレイドッグス」公式 (@bungosd_anime) December 1, 2015
Doppo Kunikida (CV Yoshimasa Hosoya)
設定画公開、第四弾は国木田独歩です!理想に燃える苦労人、お疲れ様です。国木田君。異能力「独歩吟客」発動シーンも必見!手帳を置く手の形に注目なPVはこちらから!→ https://t.co/igBN91W4tZ #bungosd pic.twitter.com/1KkotwjLkS

— TVアニメ「文豪ストレイドッグス」公式 (@bungosd_anime) December 8, 2015
Akiko Yosano (CV Yū Shimamura)
2016年4月放送開始「文豪ストレイドッグス」設定画第五弾は与謝野晶子です!探偵社の専属医、"優しく"治療して下さい!ボブヘアーにきらりと光る髪飾りがお似合いのPVはこちらから!→ https://t.co/igBN91W4tZ pic.twitter.com/aAF197OOz5

— TVアニメ「文豪ストレイドッグス」公式 (@bungosd_anime) December 16, 2015
Kenji Miyazawa (CV Hiroyuki Kagura)
2016年4月放送開始「文豪ストレイドッグス」設定画公開第六弾は宮沢賢治!どんな相手でも笑顔で対応、コミュ力を見習いたい皆の"賢ちゃん"です!笑顔が眩しいPVはこちら→https://t.co/igBN91W4tZ #bungosd pic.twitter.com/AOCEriOgCt

— TVアニメ「文豪ストレイドッグス」公式 (@bungosd_anime) December 25, 2015
Fukuzawa Yukichi (CV: Rikiya Koyama)
あけましておめでとうございます!今年も「文豪ストレイドッグス」をよろしくお願い致します。設定画第七弾は福沢諭吉!年始から気が引き締まりますね。PVを見てしっかり予習します!社長!→ bungo-stray-dogs.jp pic.twitter.com/ZNok450wzW

— TVアニメ「文豪ストレイドッグス」公式 (@bungosd_anime) January 1, 2016
Ranpo Edogawa (CV Hiroshi Kamiya)
4月アニメ放送開始「文豪ストレイドッグス」設定公開第八弾は江戸川乱歩です!座右の銘は「僕がよければすべてよし」な名探偵!乱歩さんの瞳が開くPVはコチラから→ https://t.co/CJLcH8DvCG #bungosd pic.twitter.com/pEwU0FYM7W

— TVアニメ「文豪ストレイドッグス」公式 (@bungosd_anime) January 5, 2016
Junichiro Tanizaki (CV Toshiyuki Toyonaga )
4月放送開始「文豪ストレイドッグス」設定公開第九弾は谷崎潤一郎です!前髪をピンで留めた軟派そうな青年…はたしてその実態は!?彼の周りを舞う雪が幻想的なPVはコチラ→ https://t.co/CJLcH8DvCG #bungosd pic.twitter.com/KAQH1WWxpz

— TVアニメ「文豪ストレイドッグス」公式 (@bungosd_anime) January 12, 2016
Naomi Tanizaki (CV Chiaki Omigawa)
4月放送開始「文豪ストレイドッグス」設定公開第十弾は谷崎ナオミ!長い黒髪の美しい少女。谷崎潤一郎と同じ苗字だが…?関係が気になる谷崎潤一郎が登場するPVはコチラ→ https://t.co/CJLcH8DvCG #bungosd pic.twitter.com/rtjh0Yicbi

— TVアニメ「文豪ストレイドッグス」公式 (@bungosd_anime) January 19, 2016
Ichiyō Higuchi (CV Asami Seto)
設定公開第十一弾は樋口一葉です! ポート・マフィアの首領直轄の遊撃隊に属し、上司である芥川を「先輩」と呼び慕っている。芥川先輩がチラリと出てくるPVはコチラです!→ https://t.co/CJLcH8DvCG #bungosd pic.twitter.com/Byaa4Lu3Ml

— TVアニメ「文豪ストレイドッグス」公式 (@bungosd_anime) January 27, 2016
Motojiro Kajii (CV Wataru Hatano)
設定公開第十二弾は梶井基次郎です!ポート・マフィアの構成員。「死」を「究極の科学」と豪語する狂科学者。レモネードでも飲みながら見ていただきたいPVはコチラです!→ https://t.co/CJLcH8DvCG #bungosd pic.twitter.com/Hdy8Fjt1Wp

— TVアニメ「文豪ストレイドッグス」公式 (@bungosd_anime) February 5, 2016
Kyoka Izumi (CV Sumire Morohoshi)
設定公開第十三弾は泉鏡花です!おとなしい和装の少女。その正体はポート・マフィアの構成員で暗殺者として育てられた。鏡花は出ておりませんがPV第一弾はコチラから!→ https://t.co/CJLcH8DvCG #bungosd pic.twitter.com/Q58twk8IWP

— TVアニメ「文豪ストレイドッグス」公式 (@bungosd_anime) February 15, 2016
Chuya Nakahara (CV Kishô Taniyama)
設定公開第十四弾は中原中也です!小柄だが、機敏で剛力な体術の使い手。黒い帽子を愛用しているポートマフィアの幹部です。彼が嫌悪する太宰治が活躍するPVはコチラ→ https://t.co/CJLcH8DvCG #bungosd pic.twitter.com/2A0FC9VT1y

— TVアニメ「文豪ストレイドッグス」公式 (@bungosd_anime) February 23, 2016
Official Preview PV