Starts April 8 at 10pm Pacific Time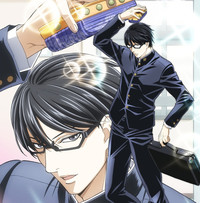 A slew of bold new anime announcements from Crunchyroll begin revving up again today with word that Haven't You Heard? I'm Sakamoto, based on the comedy manga by Nami Sano, is set to begin streaming soon!
Haven't You Heard? I'm Sakamoto is set to premier on Crunchyroll every Friday starting April 8 at 10pm Pacific Time and will be available to Crunchyroll members in the following territories: USA, Canada, Latin America, Scandinavia, South Africa, Turkey, the Middle East and North Africa, Russia, Belarus, Kazakhstan, Kyrgyzstan, Ukraine, Moldova, Tajikistan, Turkmenistan, Uzbekistan, Armenia, and Azerbaijan.
The series is directed by Shinji Takamatsu and features animation by Studio Deen. The original manga ran from 2012 - 2015 in Enterbrain's harta seinen manga magazine. An English language version of the manga is published by Seven Seas Entertainment.
About Haven't You Heard? I'm Sakamoto
Based on the manga Sakamoto desu ga? by Nami Sano, it won the 2013 Comic Natalie Grand Prize, with volume 1 being the number one on the Book of the Year list of Male-Oriented Comics from January to June 2013 by Da Vinci magazine. The anime will be animated by Studio DEEN, with Shinji Takamatsu, known for his previous work on Gintama, directing the series.
Sakamoto is not a normal high schooler. He's smart, he's dashing, he's popular with girls. Much to the dislike of the male population of his school, who tries every trick in the book to mess Sakamoto up. But in the end, Sakamoto comes out of every trap with style and makes himself look cooler. Does he do this for popularity? Is this just who he is? No one really knows, but haven't you heard? He's Sakamoto!
The protagonist Sakamoto is voiced by 47-year-old Hikaru Midorikawa, best known as Heero Yuy in Mobile Suit Gundam Wing, Zelgadis Greywords in Slayers and Kaede Rukawa in Slam Dunk. Other cast will be announced shortly. Shinji Takamatsu (Gintama, Cute High Earth Defense Club Love!) is attached to direct, alongside character designer Atsuko Nakajima (You're Under Arrest, Hakuouki), for Studio DEEN. Yasuhiko Fukuda (School Prison TV drama) composes its soundtrack music.
Additional cast
Akira Ishida as Yoshinobu Kubota.
Tomokazu Sugita as Aa-chan.
Nobuyuki Hiyama as Mario.
Ken Takeuchi as Ken-kun.
Showtaro Morikubo as Yuuya Sera.
Yui Horie as Aina Kuronuma.
Mai Nakahara as Megumi Fujida.
Yukari Tamura as Kana-chan.
Kana Ueda as Mii-chan.
Hitomi Nabatame as Yagi-san.
Saki Fujita as Tanaka-san.
Mikako Takahashi as Erika.
Tomoaki Maeno as Morita.
Tatsuhisa Suzuki as Yasuda.
Masahito Yabe as Shigeru Kobayashi.
Jôji Nakata as Kakuta-sensei.
Kujira as Shigemi Kubota.
Tetsu Inada as Maruyama-senpai.
Kōji Yusa as 8823-senpai.
And Mitsuo Iwata as Fukase-san.
Promo Video