Ballerina Madoka featured in short presented at "MadoGatari" exhibit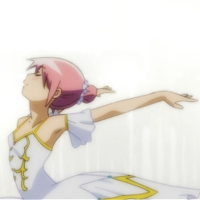 To celebrate its 40th anniversary, Japanese animation studio Shaft, Inc. presented a "Madogatari" exhibit, combining Puella Magi Madoka Magica and the Monogatari series. This presented a "Madoka concept movie," which developed Madoka Magica's relationship with fairy tales, including recasting Madoka as a Swan Lake ballerina. And, as that exhibit prepares to open in Nagoya, series original character designer (and Hidamari Sketch author) Ume Aoki has illustrated Ballerina Madoka for 25th edition of bimonthly magazine Manga Time Kirara Magica.
The art will also be featured as a bonus clearfile.
『まんがタイムきらら☆マギカ』vol.25は本日発売!蒼樹うめ先生が描くバレリーナ衣装のまどかの表紙に注目です♪ハノカゲ先生『[魔獣編]』他豪華連載陣&表紙イラストを使用したクリアファイルのふろく付きで大ボリュームでお届けします! pic.twitter.com/OgeTojVzpU

— まんがタイムきらら編集部 (@mangatimekirara) April 9, 2016
Outlining plans, the January issue of Newtype said that the four minute, trailer-like short would serve the purpose of an over-the-top production sketch that a new project could be built around. Ideas included developing Madoka as a ballet dancer, Mami as a sort of Battle God, comporable to Romance of the Three Kingdom's Guan Yu, and active new parts for Hitomi and Nagisa.
The short stated that, following the the release of the movies, Magica Quartet (Akiyuki Shinobu, Ume Aoki, Gen Urobuchi, and Shaft) continued to meet leading to Shinbo storyboarding the new concept movie, with animation staff returning for the production, as well as Yuki Kaijura contributing new background music and the cast adding their voices.
Contributing to the concept movie:
[Production staff]
Original: Magica Quartet
General director, storyboard: Akiyuki Shinbo
Director: Yukihiro Miyamoto
Altnernate dimension design: Gekidan Inu Curry
Animation director: Junichiro Taniguchi
Sound Director: Yota Tsuruoka
Sound Production: Rakuonsha, Inc.
Music: Yuki Kajiura
Production: Shaft
[cast]
Madoka Kaname: Aoi Yūki
Akemi Homura: Chiwa Saito
Tomoe Mami: Kaori Mizuhashi
Sayaka Miki: Eri Kitamura
Sakura Kyoko: Ai Nonaka
Kyubey: Emiri Kato
Momoe Nagisa: Kana Asumi

------
Scott Green is editor and reporter for anime and manga at geek entertainment site Ain't It Cool News. Follow him on Twitter at @aicnanime.