First album on sale now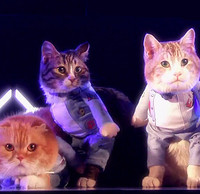 Say "meow" to SHINyan: Japan's all-feline tribute to K-pop boy band SHINee. This soon to be legendary 5-cat group makes its video debut in a startling new teaser trailer that is short, but sweet. Enjoy the clip below!
Once again, this is all a tribute / parody of K-pop band SHINee crafted by Universal Music Japan . Let's see how the furry four-legged versions stack up to the real thing...
From here, the joke gets pretty elaborate, complete with official website, Twitter account, and facebook page. The good folks at the onehallyu.com forums have gone the furthest by translating and posting band member bios.
According to the official spin, the group's first release "Kimi No Sei de for cat" (which came out on 4/21) contains special frequencies that can only be enjoyed by felines. Let's hope the fur really flies when the full length PV drops soon…
-------
Patrick Macias is editor in chief of Crunchyroll News & Otaku USA magazine.
He is also the writer of HYPERSONIC music club, Paranoia Girls, & PARK Harajuku: Crisis Team!