She also voices the main heroine and sings the theme songs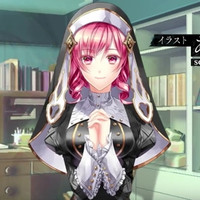 28-year-old anime voice actress/singer Hitomi Harada, best known as Mizuki Himeji in Baka and Test and Yaya in Unbreakable Machine-Doll, has confirmed that she will join the upcoming 90th Comic Market on its third day, August 14, to offer her original doujin novel game "Hajimete no Novel Game" (The First Novel Game) at the booth of Honey Contrast (East Area a-block 06a).
While being hospitalized due to a coccyx fracture last fall, she made a prototype of the fantasy novel game using the "Script Shoujo Novel-chan" app. It is still available for free on the app's official website. After gaining a great popularity, she decided to release its full-voice renewal version at this summer's Comic Market. She serves as producer, original story creator, main heroine Marianne voice actress, and the theme song writer/composer/singer. The game will be released in three editions: 30,000-yen deluxe edition, 10,000-yen special edition, and 3,000-yen regular edition. Harada herself is scheduled to appear at the booth.
OP movie "Hajimete Innovation"
Theme song "Joudan Chronicle"
Voice cast:
Hitoshi: Takahiro Mizushima
Marianne: Hitomi Harada
Qualted: Daisuke Hirakawa
Riko: Hisako Kanemoto
Zairo: Katsuyuki Konishi
Laz: Sakua Tange
Gilbert: Hiroshi Shirokuma
Matcha: Satomi Arai
King Rangle: Kenichi Ogata
Princess Époisses: Yuko Gibu
Oppai mouse pad to be included in the deluxe set
はじノベ豪華版に付く、非売品おっぱいマウスパッドのサンプルできたよぉ。ケーキ作ろうとしたら何故かこうなったんですねわかります #はじノベ pic.twitter.com/KGI9NceT7u

— 原田ひとみ@5/22新宿ライブ (@vhitomin) June 15, 2016
via: Netlabo